The Augsburg PA Program was established in 1995 and was the first accredited PA program in Minnesota. Augsburg's PA Program is a full-time program that provides a broad, case-based, primary care curriculum with an emphasis on diverse and underserved populations throughout the curriculum.
PROGRAM MISSION
The mission of the Augsburg PA program is to educate empathic, community-minded, and forward-thinking health care leaders to practice in primary care with a focus on underserved, underrepresented, and marginalized communities.
The Augsburg PA program values team-based learning for team-based patient care through connection, inclusion, and innovation.
Community and Civic Engagement
The Augsburg PA Community and Civic Engagement program provides students an opportunity to develop an empathetic, transcultural, harm reduction approach through experiential learning in community settings.
Experiences are supported through collaboration with many community-based organizations, including the multiple Augsburg University Health Commons sites, Anishinabe Wakiagun, Breaking Free, Rainbow Health, and the International Institute of Minnesota.
The Augsburg University Health Commons is a collective partnership between the Augsburg University Nursing Department, the East Africa Health Project, the People's Center Clinic and Services, and Fairview Health Services. the Health Commons is a drop-in center that has been dedicated to serving those in the Cedar-Riverside area with a focus on healthy individuals and community for the past 30 years. The mission of the Health Commons is to provide simple supplies and services needed for health, to make connections to new ideas, to link individuals and resources in the community, and to make connections to each other.
The Augsburg University PA Program is being welcomed into the work being done at the Health Commons' Cedar-Riverside and Central Lutheran locations.  Students and faculty are engaged in projects that explore the addition of PA-supported Health Commons hours that fit the community's and partner needs.
Global Responsibility
Augsburg University's Center for Global and Continuing Education offers multiple opportunities for PA students to explore their own role in global responsibility through international study abroad courses that are geared to the international and transcultural practices in healthcare and global health leadership.
While the majority of the course offerings are not clinical practice in nature, students are challenged through the Center for Global and Continuing Education course options to expand their understanding of the PA role in healthcare, global health, leadership, and global responsibility. Popular course options include Universal Responsibility and Leadership: A Central American Perspective in Costa Rica, Transcultural Music Therapy in South Africa, Medical Music Therapy in China, Medical Spanish and Clinical Observership in Cuernavaca, Mexico. Opportunities listed are subject to change year-to-year.
Additional information about the Center for Global and Continuing Education international experiences available to PA students can be found by clicking here. Enrollment in any international course must be pre-approved by the PA program, collaborating department, and through formal application to the Center for Global and Continuing Education office.
Leadership – Graduate Certificate in Leadership Studies
The graduate certificate in leadership studies program is an attractive option for PA students, PA alumni, and PAs in the community who want to further develop their leadership skills. 
The certificate provides an opportunity to develop skills through a process which:
inspires cooperation among people who must compete for limited resources,
promotes productivity within and beyond the organization, and
works toward progress for the individual and the organization.
To accomplish this, individuals aspiring to positions of leadership must possess three key attributes: a sense of vision, the ability to persuade, and the ability to direct action.
Benefits of a Leadership Certificate
In an ever-changing clinical world where PAs are stepping up as leaders, the certificate will help build skills in communication, problem-solving, and critical thinking, as well as increase students' self-confidence and leadership risk-taking. For healthcare organizations, this means they will have employees with vision and the ability to work across company divisions to make thoughtful decisions.
A Graduate Certificate in Leadership from Augsburg University will prepare PAs to go above and beyond their clinical skill set expertise in a variety of settings:
Administration and management
Education and research
Policy and PA advocacy
Entrepreneurship, industry, or consulting
Board of Directors and volunteer organization roles
Global PA roles
Certificate Outline

A certificate is awarded after completion of three Augsburg MAL courses in leadership*.
ML 505 Foundations of Leadership (Required)
ML 5XX Elective #1:

ML577: Universal Responsibility: A Central American Perspective
(also counts toward the PA Master's requirement)

ML 5XX Elective #2:
POPULAR ELECTIVES
ML 512: Leadership in the Community
ML 520: Self-Identity and Values: Keys to Authentic Leadership
ML 548: Coaching and Consulting
ML 560: Cultural Competence and Effective Leadership
ML 565: Women and Leadership
ML 531: Dynamics of Change
ML 538: Communication Skills for Leadership
View More Elective Choices Here
*Current PA students should meet with the program director to develop a plan for selecting the appropriate leadership elective courses that align with the required PA Program courses and calendar. All other students should meet with the MAL program director to develop a plan for selecting the appropriate leadership elective courses.
Application
The online application for the Masters Certificate in Leadership allows you to upload your personal summary, resume and request your recommendations by submitting the email addresses of your chosen references. The only other items needed are your official transcripts. This is the same process used for students who wish to pursue the full Master of Arts in Leadership degree. All courses in the certificate program may count toward an MA in Leadership. Click here to learn about the full Master of Arts in Leadership degree.
Tuition and Financial Aid
Certificate programs are not eligible for federal student aid. PA students will need to meet with the office of financial aid to plan for the additional 6 credits of course tuition associated with ML 505 and ML577. The cost for ML courses is $814 per 1.0 credit. Click here to learn about tuition and financial aid options specific to the Master of Arts in Leadership program.
---
Pa National Certifying Examination (PANCE)
PANCE Exam Performance Summary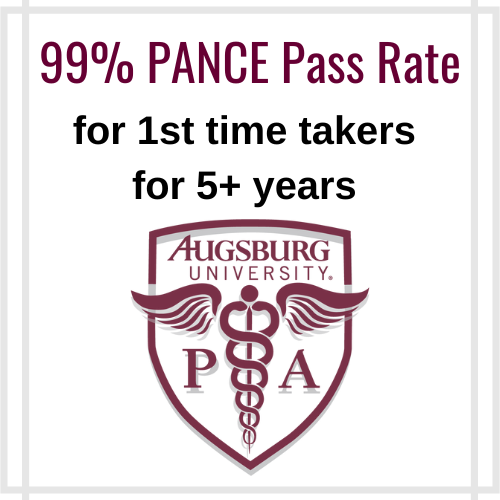 Augsburg PAs have a proven track record of success and graduates of our PA program consistently pass the PA National Certifying Exam (PANCE) at a rate that is higher than the national average.
The majority of our new PA graduates were employed within six months of graduation. In addition, Augsburg PAs continue to be innovative in identifying and creating new areas for PAs to practice medicine. They report employment in primary care, women's health, emergency medicine, urgent care, psychiatry, surgical specialties, and internal medicine sub-specialties.
---
Program Policies
Program policies apply to all students, principle faculty and the program director. A copy of the Augsburg PA Program policies can be found here:  PA Student Handbook.
---
Accreditation
The Accreditation Review Commission on Education for the Physician Assistant, Inc. (ARC-PA) has granted Accreditation-Continued status to the Augsburg University Physician Assistant Program sponsored by Augsburg University. Accreditation-Continued is an accreditation status granted when a currently accredited program is in compliance with the ARC-PA Standards. Accreditation remains in effect until the program closes or withdraws from the accreditation process or until accreditation is withdrawn for failure to comply with the Standards. The approximate date for the next validation review of the program by the ARC-PA will be 2029 June. The review date is contingent upon continued compliance with the Accreditation Standards and ARC-PA policy.
The program's accreditation history can be viewed on the ARC-PA website.