Augsburg University PA Program is Minnesota's first and foremost PA Program. We are a primary care-focused PA program that guides students above and beyond a 'typical' PA education. Augsburg PA challenges students to be their best, in an inclusive and active learning environment.
After completing the 27-month, full-time program, graduates earn a Master of Science in PA Studies and the skills to provide team-based patient care through connection, inclusion, and innovation.
---
PA PROGRAM MISSION
The mission of the Augsburg PA program is to educate empathic, community-minded, and forward-thinking health care leaders to practice in primary care with a focus on underserved, underrepresented, and marginalized communities.
The Augsburg PA program values team-based learning for team-based patient care through connection, inclusion, and innovation.
Informed Citizens: Community and Civic Engagement
The Augsburg PA Community and Civic Engagement curriculum provides students an opportunity to develop an empathetic, transcultural, harm reduction approach through experiential learning in community settings. First year health-focused experiences are supported through collaboration with many community-based organizations, including the multiple Augsburg University Health Commons sites in the Cedar-Riverside Neighborhood, Central Lutheran Church in Downtown Minneapolis, and The Living Room in Near-North Minneapolis.
Students also engage with the Special Olympics of Minnesota Healthy Athletes Program, Face 2 Face, Anishinabe Wakiagun, Breaking Free, Rainbow Health, and advocate for the profession through service and mentorship with the Minnesota Academy of PAs.
Thoughtful Stewards: Community, Global, and Professional Responsibility
The Augsburg PA Program Master's Project is the culmination of the academic phase of the program. Choosing one of three tracks, students thoughtfully search, interpret and evaluate the medical literature while forming their own comprehensive evaluation and solution to a problem.  The final project is presented in poster form and published on Idun, Augsburg's repository of scholarly and creative work.
Community Track: Through volunteer service and immersion programs, students continue their engagement and relationships with our local community, learning and then communicating how PAs can make a difference in the health of our communities.
Global Track: Augsburg University's Center for Global and Continuing Education offers multiple opportunities for PA students to explore their own role in global responsibility through study abroad courses that are geared to the international and transcultural practices in healthcare and global health leadership.
Professional Track: For those students whose interests lie in education or research, the professional track provides an opportunity for students to perform a deep dive into the medical and/or education literature to answer a problem of practice and develop a research protocol proposal.
Critical Thinkers: Inclusive and Active Learning Curriculum
An inclusive curriculum encourages student and faculty reflection on how race, gender, and other socioeconomic factors are represented and addressed in healthcare and within the PA program. Our goal is to provide a safe, supportive space for students and faculty to engage in critical conversations that will drive change. We are not perfect, nor do we pretend to be, but we strive to listen, learn, do good things with a shared goal to combat marginalization and inequality in healthcare and improve health access and outcomes for all.
Through team-based, active learning students complete a rigorous medical curriculum with a state-of-the-art point of care ultrasound and simulation program, dedicated cadaver lab for anatomy and clinical skills, as well as first-year community health experiences, substance use disorder and telehealth curriculum, and clinical training opportunities that only a well-established PA program can offer.
For more information on our curriculum and approach, click here.
Responsible Leaders: PAs as Healthcare Leaders
Graduate Certificate in Leadership Studies
In an ever-changing clinical world where PAs are stepping up as leaders, the certificate in leadership studies will help build skills in communication, problem-solving, and critical thinking, as well as increase students' self-confidence and leadership risk-taking. For healthcare organizations, this means they will have employees with vision and the ability to work across company divisions to make thoughtful decisions.The graduate certificate in leadership studies program is an attractive option for PA students, PA alumni, and PAs in the community who want to further develop their leadership skills. Admitted PA students can begin coursework in the leadership program prior to starting their PA studies, during PA school, or after graduation. For more information please visit Master's Certificate in Leadership Studies website or the PA program email at paprog@augsburg.edu.
Equity and Inclusion PA Graduate Fellowship Program
The Graduate PA Fellowship Program selects diversity-minded PA graduates to further their passion for teaching and learning in the time between graduation and beginning their clinical PA career.  Supported by a paid stipend, Fellows spend their time teaching and mentoring current students, working and learning alongside PA faculty.  The program strongly believes in the need for PA instructors who bring diverse perspectives and knowledge that reflect the growing diversity among PA students and our patients. The goal is to increase representation in the classroom now and inspire Fellows to become PA educators in the future.
---
Pa National Certifying Examination (PANCE)
PANCE Exam Performance Summary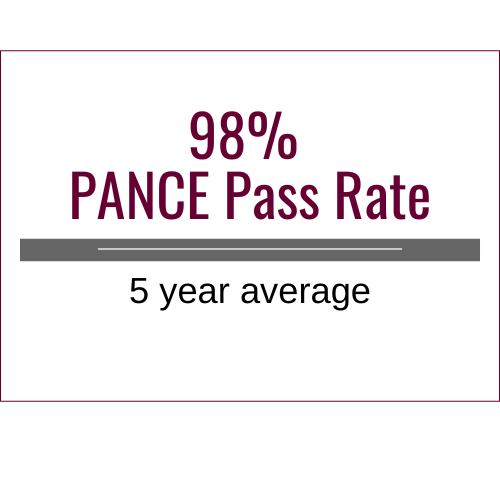 Augsburg PAs have a proven track record of success and graduates of our PA program consistently pass the PA National Certifying Exam (PANCE) at a rate that is higher than the national average. Our current 5 year average for first-time takers is 98%.
The majority of our new PA graduates were employed within six months of graduation. In addition, Augsburg PAs continue to be innovative in identifying and creating new areas for PAs to practice medicine. They report employment in primary care, women's health, emergency medicine, urgent care, psychiatry, surgical specialties, and internal medicine sub-specialties.
Attrition and Graduation Rate statistics
ARC-PA Student Attrition 

Graduated Classes

Class of 2020

Class of 2021

Class of 2022

Maximum entering class size
(as approved by ARC-PA)

33

33

33

Entering class size

33

33

33

Graduates

31

30

32

*Attrition rate

2/33 = 0.06 (6%)

2/33 = 0.06 (6%)

1/33 = 0.03  (3%)

**Graduation Rate

31/33 = 0.94 (94%)

30/33 = 0.91 (91%)

32/33 = 0.97 (97%)
*Attrition rate calculation: Number of students who attritted from cohort divided by the entering class size.
**Graduation rate: Number of cohort graduates divided by the entering class size.
---
Program Policies
Program policies apply to all students, principle faculty and the program director. A copy of the Augsburg PA Program policies can be found here: PA Student Handbook
Discrimination, Bias, and Sexual Harassment

The Augsburg PA Program does not tolerate acts of discrimination, bias, or sexual harassment. The PA Program follows all Augsburg University Policies related to this topic (A1.03j).
To report discrimination or a bias-incident please use the following link to connect to our online reporting form. If you would like more details on the reporting process and the reporting options you have, click here.
For more information on Augsburg Sexual Harassment policies or to report sexual harassment, please click here.
---
Accreditation
The Accreditation Review Commission on Education for the Physician Assistant, Inc. (ARC-PA) has granted Accreditation-Continued status to the Augsburg University Physician Assistant Program sponsored by Augsburg University. Accreditation-Continued is an accreditation status granted when a currently accredited program is in compliance with the ARC-PA Standards. Accreditation remains in effect until the program closes or withdraws from the accreditation process or until accreditation is withdrawn for failure to comply with the Standards. The approximate date for the next validation review of the program by the ARC-PA will be 2029 June. The review date is contingent upon continued compliance with the Accreditation Standards and ARC-PA policy.
The program's accreditation history can be viewed on the ARC-PA website.