LYN ZURAKOWSKI, PA-C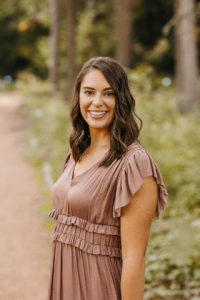 We continue our alumni spotlight series by speaking with Lyn Zurakowski, PA-C. Lyn Zurakowski, PA-C is a 2020 graduate of the PA Augsburg program. She currently works in a hospital where she practices hospital and critical medicine in Wisconsin. Lyn took the time to discuss her work as a PA, and offers some fantastic tips for PA students.

What type of setting do you work in?
I practice in Chippewa Falls, and Eau Claire, Wisconsin which serves a rural population.
Why did you decide to choose your area of medicine?
I practice hospital and critical care medicine. These environments allow me to care for patients with a wide array of medical conditions, which I find fascinating. Both of these areas are also very challenging, in that these patients are acutely ill. Because I care for patients with such a wide array of medical conditions, I am constantly learning and being challenged professionally. Additionally, hospital medicine is very collaborative; I really enjoy getting to work closely with my colleagues within the hospital medicine team as well as the other specialists/consultants. 
What was the biggest transition between PA school to your first job?
When you are in PA school, faculty often says that the volume of information and learning curve "is like drinking out of a fire hydrant". I have joked with my fellow new graduate physician assistant colleagues, that being a new graduate physician assistant is like "climbing up a waterfall". The volume of new information and learning curve doesn't end on graduation day. Additionally, the mindset from thinking of yourself as a "student" to "provider" is also a challenge. In part, because there is now a lot of responsibility bestowed upon you, but also because there are feelings of imposter syndrome. 
What was a major challenge in your first year?
I started practicing in March 2021, during the COVID-19 pandemic, which has posed many challenges. Treating COVID-19 wasn't something I had learned about in didactics because it wasn't around at that time. Learning how to manage this patient population and continuing to keep up with the latest and everchanging evidence and guidelines has been an ongoing task. 
Coming up on your first-year anniversary, what are areas you feel more comfortable in now compared to when you started?
When graduation was nearing, I felt terrified in being starkly aware of how much I still didn't know within the world of medicine. However, now I have embraced the fact that I will never know everything because that would be an unrealistic expectation to have of myself. Acknowledging that it is always ok to ask questions and knowing who/what my resources are have substantially increased my comfort level in practicing medicine. 
What tips do you have for students on applying and interviewing for their first job?
An interview is as much about you interviewing your potential future employer as it is about them interviewing you. Just as you should come prepared for what questions the interviewer might as you, you also need to come prepared with questions to ask. As a new graduate physician assistant, questions that I find important to ask include: What type of support will I be given? What does the onboarding process look like? 
Additionally, do your research and have a knowledge base regarding the organization you might be working for and the specific position you have applied for. Be able to speak to why that organization's mission statement aligns with your own beliefs and goals. Most importantly, be genuine. 
What activities do you enjoy in your spare time?
In my spare time, I enjoy doing things that help me to feel relaxed and balanced in my life. Spending time with my husband, family, friends, and dog Gracie is very important to me. I also enjoy biking, kayaking, hiking, and reading. 
Do you have a favorite Augsburg PA memory you wish to share?
My time at Augsburg University was a very memorable one! I enjoyed being able to form many connections with fellow students, faculty, and preceptors. My clinical preceptor for my first clinical rotation was a physician assistant who was also an Augsburg alumna and a former registered nurse, like myself. Having those things in common, allowed for us to quickly form a connection. This preceptor helped me to build confidence in myself during my first clinical rotation and allowed me to struggle at times, knowing it would only make me stronger in the end. She pushed me when I needed to be pushed, but also reassured me and provided support.  She became an informal mentor to me and is someone who I still remain in contact with today. 
If you were not a PA, what career could you see yourself doing?
If not a physician assistant, I would want to be an astronaut! I have always found space and aeronautics very interesting. I really enjoyed reading the article published by the AAPA titled "Reaching New Heights: From Cancer Survivor to Becoming the First PA in Space" authored by Paulette Bleam, MBA. I can only dream of being a PA in space someday. 
Is there anything else you wish to share?
Set big goals for yourself. At the end of the day it is mind over matter, if you think you can't, you won't. Believe in yourself and surround yourself with others who also support your goals and dreams. Allow yourself to be vulnerable and try new things, both as a student and practicing physician assistant. 
---