Become a Preceptor!
We are always looking for preceptors to assist our future PA's in their education.
Clinical instructors are a key ingredient in educating the next generation of PAs. The clinical training of PA students follows the medical student training, including the "see one, do one" approach for clinical procedures. PA clinical education includes core rotations in family medicine, internal medicine, pediatrics, behavioral health, women's health, general surgery, and emergency medicine. We are also open to specialty rotations as each student is able to complete an elective. If you would like to participate in the clinical education of PA students, please fill out the form.
---
Preceptor Spotlights
Click the links to read more about some of our preceptors and their experience working with Augsburg PA students.
Dr. David Anderson, MD ('66)

Dr. David Anderson, MD, D/ABSM currently practices outpatient pulmonary and sleep medicine at the Great Falls Clinic in Great Falls, Montana.

Jeremiah Lynch, PA-C ('15)

Jeremiah Lynch, PA-C currently practices Family Medicine at North Memorial Health Clinic.
---
Category I CME for PA Preceptors
The Augsburg PA Program has been granted permission to offer Category I CME credit to our PA-C
preceptors. *Note: We are unable to award credit from previous years due to submission standards. See below for a summary of the process:
The PA Program may award 2.0 AAPA Category I CME credits for each week of clinical teaching.
Example: 5 week rotation= 10 credits. One week= 40 hours.
If a preceptor has more than one student at a time, that preceptor may be awarded an
additional CME I credit for each additional student.
Preceptors are encouraged to keep track of their weeks/hours during the year, and these will be reconciled with program records to ensure accuracy.
The preceptor must complete a Preceptor Reporting and Evaluation Form and email it to
clinicalphase@augsburg.edu before December 15th each year.
Upon receipt of the completed evaluation form, the program will send you a certificate
awarding the Category I CME credits.

Category II CME for PA Preceptors
The time our preceptors spend educating our student can also be reported by the preceptor to NCCPA
as Category II credits on an hour-by-hour basis and does not require documentation from the PA
Program (each week of rotation = 40 hours)
---
Resources
Learning Outcomes
Students have syllabi and learning outcomes for each rotation. They should be sharing this with you within the first few days of the rotation; below you will find links to the respective learning outcomes for each rotation type. Additionally, reference this guide whether you are considering precepting a student, or already have one. After each core rotation, students will be tested on their knowledge. Topic lists for each rotation can be found on the PAEA website.
Emergency Medicine Learning Outcomes
Family Medicine Learning Outcomes
General Surgery Learning Outcomes
Internal Medicine Learning Outcomes
Inpatient Experience Learning Outcomes
Preceptorship Learning Outcomes
Medical Education and Research Costs (MERC) Information
The Medical Education and Research Costs (MERC) Grant, administered by the Minnesota Department of Health (MDH), distributes grants annually to providers of clinical medical education. Learn about the Clinical Training Site Eligibility Requirements.
Exxat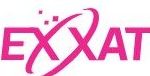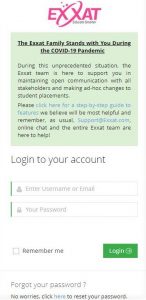 To evaluate student performance, Augsburg PA utilizes Exxat. Preceptors will be requested twice during the rotation to provide feedback. The mid-evaluation should be used as a tool to discuss with your student where they are now and how they can improve. Each preceptor is provided their own login information prior to the student arriving. If you become locked out, click on the "Forgot your Password?" link located on the page below the Client Login. Here are the steps to follow in order to access the system:
Enter the following URL in your web browser
https://exxat.com/
and then click "Client
Login
" located in the upper right-hand corner.