The Augsburg PA program cohort begins in May of each year. 
The program lasts approximately 27 months and is broken up into 4 semesters of an academic phase followed by 12 months of rotations in a clinical phase. The following flow chart breaks down the timeline of courses for any given student in one of our cohorts.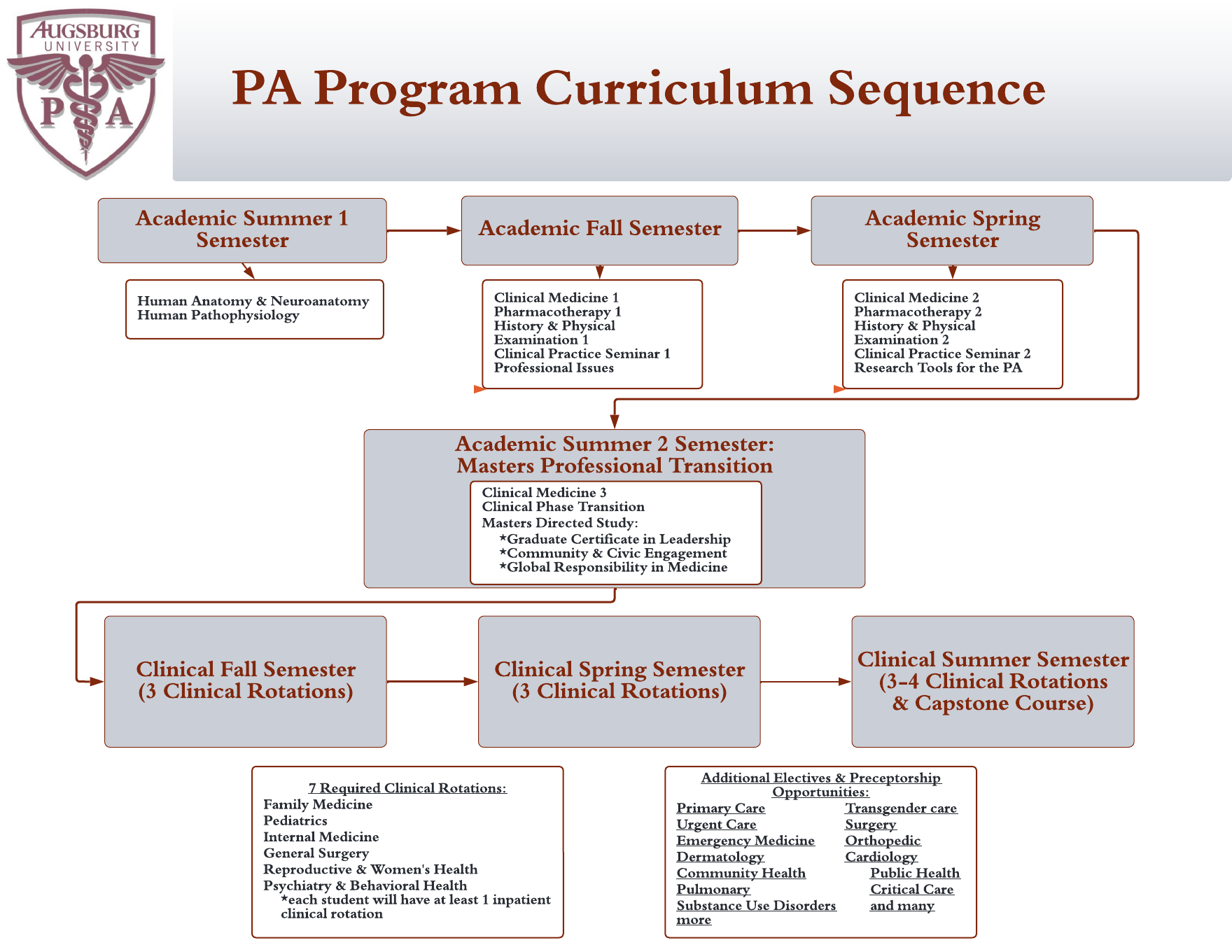 ---
ACADEMIC PHASE (15 months)
These courses, as shown above, are part of the core of our academic phase.
Summer 1 (12 credits)
PA 501 – Human Anatomy and Neuroanatomy (8 credits)
PA 503 – Human Pathophysiology (4 credits)
Fall (24 credits)
PA 531 – Clinical Medicine I (8 credits)
PA 521 – Pharmacotherapy I (5 credits)
PA 511 – History and Physical Exam Skills I (7 credits)
PA 542 – Professional Issues (2 credits)
PA 546 – Clinical Practice Seminar I (2 credits)
Spring (26 credits)
PA532 – Clinical Medicine II (10 credits)
PA 522 – Pharmacotherapy II (5 credits)
PA 512 – History and Physical Exam Skills II (7 credits)
PA 555 – Research Tools for the Physician Assistant (2 credits)
PA 547 – Clinical Practice Seminar II (2 credits)
Summer 2 (9-10 credits)
PA 533 – Clinical Medicine III (4 credits)
PA 545 – Clinical Phase Transition (2 credits)
Master's Project course, one of the following:
PA 599 – Directed Study (3-4 credits)
PA/ML/MAE XXX – International Experience
CLINICAL PHASE (12 months)
Fall (12 credits)
Spring (12 credits)
Summer (16 credits)

PA 600-622 – Clinical Practicums, Preceptorships (4-6 credits)
Over the course of the clinical year, as seen above, every student is required to successfully complete 7 core clinical experiences*, any additional electives, and any preceptorships that complement our primary care-focused curriculum. These include:
Psychiatry and Behavioral Health*

Emergency Medicine*

Family Medicine*

General Surgery*

Internal Medicine*

Pediatrics*

Women's Health*

Electives/Preceptorships
Examples of Elective Experiences: Urgent care, primary care, cardiology, pulmonology, orthopedics, emergency medicine, critical care, surgery, transgender care, pediatrics, infectious diseases, internal medicine, dermatology.
PA 690 – Capstone Course (2 credits) Required in the last semester of the program. 
---
Course Descriptions
For a full list of course descriptions for all departments, visit the Academic Catalog page.
---