Augsburg's PA Program sets itself apart by living out our mission in every aspect of our teaching. We strive to provide PA education based on a foundation of respect and sensitivity to people of every culture and background. In addition to a comprehensive primary care curriculum that advances alongside healthcare (think telehealth and point-of-care ultrasound, our students learn in an inclusive and active environment with a wide range of community engagement opportunities at the Augsburg Health Commons, international experiences, interprofessional certificates, a graduate educator fellowship and more!
Inclusive Learning
Our goal is to provide a safe, supportive space for students and faculty to reflect on the social determinants of health, understand the gaps in healthcare, and engage in critical conversations that will drive change. We are not perfect, nor do we pretend to be, but we strive to listen, learn, address, and combat marginalization and inequity in healthcare and PA education.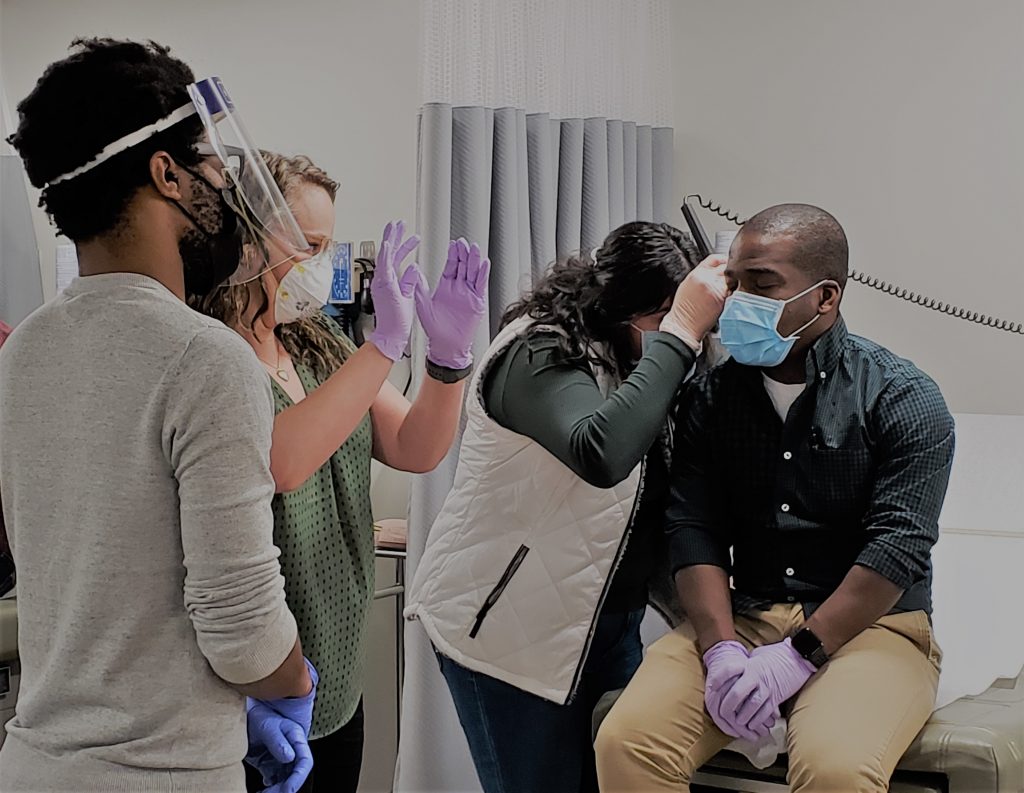 The Augsburg PA Program values the experience, perspective, diversity, and knowledge that our students bring. The program depends on ongoing conversations between faculty, staff, and students in order to promote student success, with access to the best resources available.
Some examples of our efforts to increase inclusion and promote student success:
Diverse Graduate Fellowships
Health Equity and Racial Justice in Healthcare Certificate
Student Society Chair of Diversity and Inclusion
Personalized advising, tutoring, and mentoring by faculty, including study groups
Engagement with PA student advisory groups (admissions, curriculum)
Augsburg University's Diversity and Inclusion Certificate Program for all faculty and staff
Collaboration with the Center for Learning and Accessible Student Services
Promoting a student/provider wellness and resilience mindset
---
Inclusive Care
We empower students to practice understanding and interaction with their patients, preparing students to thoughtfully work alongside patients to promote health in everyday life. Incorporating the Social Determinants of Health in each course, we place emphasis on the following topics:
Trauma-informed and Healing-Centered Care
Caring for Patients with Disability or Special Healthcare Needs
Caring for Sexual and Gender Minority Patients
Transgender and Gender Affirming Care
Race, Racism, and Health Inequities in Medicine
Care for People Experiencing Housing Insecurity
Religion and Spirituality in Health Care Practice
Professional Burnout and Provider Impairment
Caring for Refugee and Immigrant Communities
---
Active Learning
Augsburg focuses on an active learning environment and challenges students to develop skills in clinical decision making, interpersonal communication, and developing content knowledge needed to provide patient care in the ever-changing healthcare landscape. Our program utilizes:
Cadaver lab small group dissection with clinical case correlations
Simulated patients (actors trained as patients for students to learn from) and mannequins
Substance Use Disorder curriculum with MAT-waiver training
Point of Care Ultrasound (POCUS) throughout the entire curriculum
Seminar small group, case-based learning with faculty guides
Lecture-based sessions framed with patient cases
Interprofessional activities with nurses, doctors, mental health providers, interpreters
Technical skills workshops (i.e. suturing, casting/splinting, biopsies, intubation, chest tubes, central lines)
---
Community Health Engagement: Augsburg Health Commons
The Augsburg PA Program is proud to be a part of the Augsburg University Health Commons. The Commons have locations across the Minneapolis/St. Paul region and focus primarily on supportive relationships, providing resources to those who are most underserved, and de-emphasizing the expert-model. Born from the idea of trans-cultural nursing, it has blossomed into a network of drop-in centers that span across cultural and departmental boundaries with an emphasis on mutual benefit.
From the first semester, our PA students can serve at one of the many Health Commons locations and continue to remember their "why" as they are also learning in the classroom. Communities that we accompany include the Harrison Neighborhood in North Minneapolis, our own Cedar-Riverside Neighborhood, Downtown Minneapolis, and East Saint Paul.
Addressing health disparities within the local sections of our communities allows us to create changes in our healthcare system that honor the wisdom and experience of patients as we seek to reduce bias, increase compassion-based care, and work as inclusive caregivers.
Students also engage with the Women of Nations Shelter, Special Olympics of Minnesota Healthy Athletes Program, Face 2 Face, Anishinabe Wakiagun, Breaking Free, and Rainbow Health. We also advocate for the profession through service and mentorship with the Minnesota Academy of PAs and Project Access.
---
Travel Abroad
International experiences* allow students to expand their perspective on healthcare. As a component of the Masters Project, our PA students may choose to take the interdisciplinary course, "Health Care, Leadership and Universal Responsibility,"  In the past, students have traveled to China, Nicaragua, and Costa Rica. We also have approval for international clinical sites in Belize, Ecuador, and South Africa but these are on hold due to COVID-19 restrictions, though we are continually reassessing options.
Augsburg University is offering interprofessional PA student experiences to Costa Rica, South Africa, and the Boundary Waters in 2024!!
*There is an additional cost associated with both the master's project international experience and the international clinical rotation. Students who elect these experiences can expect to pay between $3,000.00 to $6,000.00 in addition to standard PA course tuition. Costs change dependent upon the market, international site and length of stay. Students may choose to apply their financial aid to cover the associated costs.
---
Responsible Leadership: Augsburg PAs as Healthcare Leaders
Graduate Certificate in Leadership Studies
In an ever-changing clinical world where PAs are stepping up as leaders, the certificate in leadership studies will help build skills in communication, problem-solving, and critical thinking, as well as increase students' self-confidence and leadership risk-taking. For healthcare organizations, this means having vision and the ability to work across company divisions to make thoughtful decisions. The graduate certificate is an attractive option for PA students, alumni, and PAs in the community who want to further develop their leadership skills.
Admitted PA students can begin coursework in the leadership program prior to starting their PA studies, during PA school, or after graduation. For more information please visit Master's Certificate in Leadership Studies website or email us at paprog@augsburg.edu.
Equity and Inclusion PA Graduate Fellowship Program
With the support of Augsburg University's Equity and Inclusion Initiatives, Augsburg PA program has developed a PA Graduate Fellow Program.
This is an opportunity for recently graduated, diversity-minded PAs to grow their leadership and teaching skills in a hands-on classroom setting during the time between graduation and clinical practice.
The Graduate Fellow will be supported financially to work with the PA program to become mentors and role models to current graduate-level PA students and PA faculty, reaffirming and growing our culture of equity, inclusion and diversity.
The Fellow will have an opportunity to prepare for their boards, licensure, and clinical practice while being mentored by PA program faculty in principles of health professions education and then applying those skills in the PA classroom.
Learn more about our incredible program and our continued initiative to foster a diverse learning and teaching environment for graduates, students, and faculty members with the video below:
Want to contribute to this program? Donate directly to our graduate fellows. Simply select the Physician Assistant Program in the drop-down and the funds will go towards supporting these new educators.