The Department of Business Administration fosters close relationships with the corporate community, providing our students with access to real-world expertise, various internship options, networking and referral opportunities, and future job prospects. We prepare students for professional careers in business—or graduate studies—through a curriculum that stresses analysis and communication, emphasizes both theory and practice, and is shaped by the needs of the business community.
We offer Bachelor of Art degrees in eight majors:
Business Administration – Music Business
Management
Accounting
Finance
International Business
Management Information Systems
Marketing
A combined major in business administration and economics
Bachelor's degrees for working adults
There are five major options available through our Adult Undergraduate program—a flexible bachelor's degree program for working professionals:
Accounting
Economics/Business
Finance
Management
Marketing
Classes are held face to face and online. Many classes are offered in an accelerated eight week format. For accounting students either as a first major or returning for a second degree; you can now complete all six upper division accounting classes (24 credits) required to sit for the CPA exam in a year and a half.
Gain hands-on experience
Business students at Augsburg do more than learn about balance sheets and supply and demand. The Business Administration Department coordinates with the Center for Global Education and Experience, the Strommen Center for Meaningful Work, and the Sabo Center for Citizenship and Learning to provide students invaluable learning experiences through study abroad, internships, and service work.

ACBSP (Accreditation Council for Business schools and Programs) – accredited may 2020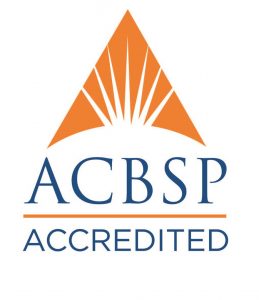 Number of Graduates by Major 2017-2021 
Business Graduates 2017-2021 Undergraduate and Graduate
Annual Retention Rates for Business Students 2014-2018
Business Administration Learning Objectives 
Business Administration Department Assessment Revised