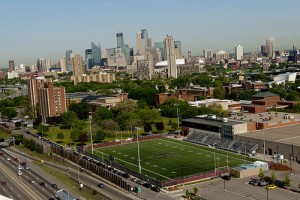 Set in a vibrant neighborhood at the heart of the Twin Cities, Augsburg College offers more than 50 undergraduate majors and nine graduate degrees to nearly 3,500 students of diverse backgrounds. The trademark of an Augsburg education is its emphasis on direct, personal experience. Guided by the faith and values of the Lutheran church, Augsburg educates students to be informed citizens, thoughtful stewards, critical thinkers, and responsible leaders.
Augsburg demonstrates its commitments through the work of four signature centers: the Christensen Center for Vocation, the Center for Global Education, the Sabo Center for Citizenship and Learning, and the Strommen Center for Meaningful Work.
Degrees
Augsburg's undergraduate program of liberal arts and sciences is offered on both a traditional weekday schedule and a non-traditional evening schedule. Augsburg offers master's degree programs in business, education, leadership, nursing, physician assistant studies, creative writing, music therapy, and social work, and a doctoral program in nursing practice. For more information, go to Undergraduate admissions / Adult undergraduate admission / Graduate admissions.
Locations
See Maps, Directions, and Parking
Minneapolis
Augsburg's Minneapolis campus surrounds Murphy Square, the oldest park in Minneapolis. The University of Minnesota West Bank campus and one of the city's largest medical complexes – the University of Minnesota Medical Center, Fairview – are adjacent to Augsburg, with the Mississippi River and the Seven Corners theatre district just a few blocks away. Convenient bus routes run by the campus, and two Hiawatha Line light rail stations are just blocks away.
Rochester
In addition to its Minneapolis campus, Augsburg has a site in Rochester, Minn, located at Bethel Lutheran Church.
International
Via the Center for Global Education, Augsburg College maintains locations in Central America, Mexico, and Southern Africa. Programming is also offered in Bolivia, Cuba, Vietnam, and throughout Europe.