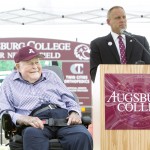 A Message from Augsburg College President, Paul Pribbenow.
Dear Augsburg Faculty and Staff,
It is with great sadness that I share the news that Edor Nelson '38 has died. Memorial service information will be available later this week and posted on Inside Augsburg.
Last week we celebrated Edor's 100th birthday in the company of more than 200 of his former students and friends. I'm personally grateful that we were able to recognize his legacy by dedicating our new scoreboard in his honor on the Edor Nelson Field.
Few people in Augsburg's history could claim as long and lasting an impact on this College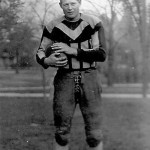 as Edor Nelson. He touched the lives of many here at Augsburg through his years as football coach (1947-69), his years as baseball coach (1947-79) and his support in building the wrestling and men's hockey programs at Augsburg.
We hold in our thoughts and prayers Edor's sons, Auggies Bruce '71 and Bob '68, his immediate family, and all who loved him as part of Augsburg's extended family.
Yours,
Paul Pribbenow