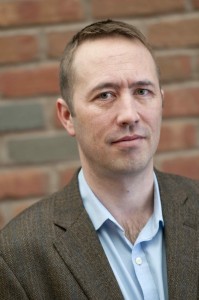 Whether you've been writing in isolation for years or have only recently begun to think seriously about your craft, you'll find what you need in the Low-Residency MFA Program in Creative Writing at Augsburg College. Here, we provide the two things that all developing writers must acquire: feedback on your work from practicing artists and the opportunity to forge life-long connections with others in your field.
Offering course work in five-genres — fiction, nonfiction, poetry, screenwriting and playwriting — the low-residency program is designed for people who may need to stay close to home for most of the year. The program revolves around an annual ten-day summer residency. Much like a literary festival, it incudes daily workshops, panel discussions, craft talks, and readings, with more informal discussions held throughout the day around meals and coffee breaks. It is an energizing, inspiring break from your everyday life, a time when you have but one obligation: to immerse yourself in the life of a writer.
During the fall and spring semesters, students work remotely with a mentor in their chosen genre. Each semester, students take two classes. For one, students send their mentors packets of creative writing, totaling approximately 25 pages each month, and produce a response to readings selected for them by their mentor. Because our mentors work with no more than five students each semester, students are guaranteed to receive a great deal of personalized attention. The second course students take each semester is a kind of book group. In it, students discuss a common set of books with their mentors and fellow students, focusing on the craft of writing. During one of the four semesters, students develop a craft paper.
In addition to this, students can enroll in career-enhancing concentrations in teaching and translation, or gain invaluable experience by joining our student-run publishing house.
Since launching in 2013, our program has enjoyed visits from such celebrated writers as Pam Houston, Ben Percy, Ed Bok Lee, Alex Lemon, Sue Silverman and Deborah Blum, among others. Members of the core teaching faculty have won the Minnesota Book Award, been nominated for an Oscar, had work featured in the New York Times Book Review and on NPR's "Fresh Air," and seen their writing produced for HBO, adapted for PBS, and optioned for the big screen.
To learn more about our program, please browse this website, drop me an email, or give me a call. I'm happy to answer any of your questions, and I hope to hear from you soon.
— Stephan Eirik Clark, Director MFA Program