July 16-26, 2020
Each summer, our students, mentors, and a host of visitors convene for a ten-day residency that includes craft talks, workshops, readings, panels, and more. While in the past the residency session has been held on Augsburg's Minneapolis campus, this year we will be relocating to the Hyatt Regency, in Bloomington. Located just two light rail stops away from both the Minneapolis-St. Paul International Airport and the Mall of America, this location will provide an enhanced student experience.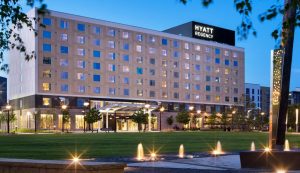 In July 2019, we welcomed visiting writers Danez Smith (Poetry), Tessa Fontaine (CNF), Stacey Rose (Playwriting), Rebecca Sonnenshine (Screenwriting), and others. We also celebrated the release of Lisa Van Orman Hadley's Irreversible Things, the winner of our Howling Bird Press Fiction Prize.
Our 2020 visiting writers will be announced in March.
To see a sample summer residency schedule, see the 2019 summer residency program.