---
For more student stories, follow us on Facebook, Twitter, or Instagram!
---
Joshua Johnson, MFA in Fiction
"My time in the Augsburg MFA program had a profound impact on me. Working one-on-one with thoughtful, supportive, and brilliant faculty; engaging in vibrant and exciting discussions with my peers; benefitting from the lectures and readings of guest writers — all of it helped make me into the writer I am today. Shortly after graduating from Augsburg's program, I signed with a literary agent and sold my first two books to major publishers in the US and UK. These successes are thanks in large part to those crucial years learning from my peers and faculty members in Augsburg's MFA program." 
We're thrilled to share that Josh's book, The Forever Sea, is now available for pre-order through DAW (an imprint of Penguin Random House). The book will also be available for purchase in the UK, through Titan Books.
Trena Bolden Fields, MFA in CNF
"What this program gave me was the blessed opportunity to study for an MFA while living in Mexico, South Africa and within the US (I moved for diplomatic service four times while studying for my degree). Being a part of this program gave me the opportunity to teach drama and narrative writing for a private school and independent organizations in South Africa and the US. I have also been able to teach storytelling in schools for a theatre company and have recently created my own arts based company, Bolden Fields Arts Academy. Through my work, I have been able to positively impact individuals, communities, and generations. The low residency program allowed me to live and work globally. This is the mission of the college in action. This is the work of an Auggie. I am called. I will continue to serve using the knowledge I have gained from the MFA low-residency program at Augsburg University. Thank you Augsburg's Creative Writing MFA program for helping me to answer the call and no longer deny my deep desire to write and impact generations with my story."
Jeremy Bandow, MFA in Screenwriting
"A little bit about what the Augsburg MFA program has meant to me… It was my one and only opportunity to receive a MFA in Screenwriting locally, in the Twin Cities, near home and family. It allowed me to network with and humbly call unbelievably talented writers my peers, and to work one on one with celebrated national and international mentors. It afforded me the opportunity to receive the skills necessary to prepare me for my current position as head of the Screenwriting Program at Metropolitan State University, an absolute dream job for me. Last but not least, in two words side by side, Liberal Arts … now more than ever, do we need to value this phrase, this discipline, this ideal, this practice. The Augsburg MFA program embodies what liberal arts has stood for over the centuries, that is, the desire and quest for universal understanding, and the freedom to study, share viewpoints, and express oneself, in diverse and daring fashion, in diverse and supportive communities."
Dominique Haikel, MFA in CNF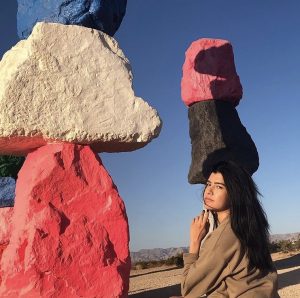 "I say this without exaggeration—the Augsburg MFA program is the only reason I was able to go on to work as a writer for some of the most recognized companies in the world. Right after graduation, I landed a job writing for E! News, a division of NBC/Universal, where I published over 600 articles in just over a year. I swear this is not a poor attempt at a humble brag—these are simply facts about my life. A life that would not have been possible had I not been given a safe space to develop my writerly voice. My mentors and classmates encouraged me to be loud, to fail, and to keep going. For the first time in my life, I felt intelligent and capable. The program even helped me flex my secret love for public speaking—a skill I use in my current job, years later, as a copywriter for Juul Labs. I've been able to use my MFA in creative writing to work as a journalist, editor, blogger, tech/UX writer, social media specialist, and more. What other degree allows for such flexibility? When I write my first best-selling book, you better believe this program will receive a shout out."
Michelle Herrin, MFA in Screenwriting
"When I started my MFA in Screenwriting at Augsburg in 2013, I was living in Kansas City, Missouri and completely lost in life. I have this very distinct memory of driving up Interstate 35—it was summer, my windows were down, and there was a Mazzy Star song on the stereo—and when I saw the city for the first time, I felt what I can only describe as hope. That's what writing is to me—hope. It's taking empty pages that stretch on forever and filling them with something you wish was in the world. My first residency at Augsburg taught me a lot of things about screenwriting, but that's actually not what I remember most. It was being with a group of people who left their jobs and families and lives to come to this place in this time—to come to Augsburg—because they believed in this act of hope. I drove home down the same roads, listening to the same songs, but I was different. I imagine we all were. I don't write every day. I don't watch movies every day. But I do think about this memory nearly every single day of my life. When I'm standing in line. When I'm hiking. When I'm teaching. When I'm stuck at home during a pandemic. I remember summer and Augsburg and I remember hope."