Application Requirements
All MFA applicants must submit an admission file that includes the following: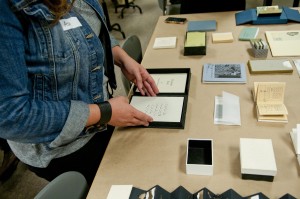 Completed online application form.  (The $50 application fee is waived for online applications)
Official transcripts from ALL post-secondary schools attended
Two Letters of Recommendation
Essay
Samples of your creative work in the genre to which you are applying

Fiction and Creative Nonfiction: 20 pages, double-spaced
Poetry: 15-20 pages, single-spaced
Playwriting and Screenwriting: 15-30 pages, standard script format
Note:  You may apply to more than one genre. Contact Graduate Admissions to request the shortened application for any genre beyond your first choice.
Application Deadline
Priority deadline: February 1
The MFA program admits on a rolling basis until each genre is full. Completed applications received by February 1 will be reviewed and given a decision first. After that date, new applicants may be admitted or waitlisted, depending on space availability within genres.
Submitting Transcripts
Official transcripts from all previously attended post-secondary institutions for undergraduate and graduate level coursework must be submitted directly to the Graduate Admissions Office by electronic transfer or by mail.
By electronic transfer:
Augsburg Collect uses Scrip-Safe and Docufide/Parchment as official transfer services. Please call 612-330-1101 to check of the feasibility of other options if you are considering using a different transfer service.  Transcript documents should be sent to admissiondocs@augsburg.edu. After you request an electronic transcript, please send an email to gradinfo@augsburg.edu letting us know that your transcript has been ordered. Include your name, desired degree program,  and the name of the sending institution.
 
By mail:
Graduate Admissions Office, CB 65
Augsburg College
2211 Riverside Avenue
Minneapolis, MN  55454
International Applicants
Find detailed information on our International Graduate Admissions page. Or, contact the Graduate Admissions Office for additional assistance on this process at 612-330-1101 or gradinfo@augsburg.edu.