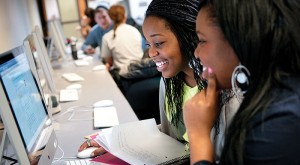 Augsburg students come from all over the country and the world to live and learn. Our campus is a lively assortment of cultures, races, identities, religions, and ways of thinking. Though we are different in many ways, one thing brings us together — our curriculum.
In the undergraduate programs, the Core Curriculum combines liberal arts, major coursework, and Augsburg's signature courses to prepare students to be leaders and stewards of our ever-changing world. Our graduate curriculum is guided by the themes of preparation for leadership, education for service, and recognition of cultural and social diversity.
Students in all of our programs learn outside of the classroom through service learning, internships, fieldwork, consulting projects, and study abroad. It's this commitment to hands-on learning, combined with the opportunities our city offers, that make your educational experience uniquely Augsburg.