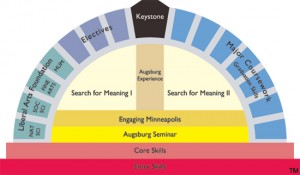 The blueprint for an Augsburg Education is the Augsburg Core Curriculum, designed to prepare you to be an effective, informed, and ethical citizen in the 21st century.
Grounded in a strong liberal arts foundation, the curriculum promotes the development of intellectual and professional skills. But it goes farther and deeper, engaging you in an inquiry about your faith and calling in life, and supporting you in meaningful experiences outside of the classroom.
The Augsburg Core Curriculum includes the following components:
The Augsburg First Year Program helps weekday students make the transition to college and their new community.  The components of this program include:
Augsburg Seminar — an introduction to the College and its resources, usually linked to an academic course
Engaging Minneapolis — course-embedded experiences that introduce you to our diverse urban community
The Search for Meaning (REL 100 and a Religion elective) invites students to explore the College's Lutheran heritage, gain literacy in religious traditions around the world, and reflect on their own beliefs, values, gifts and vocations.
Liberal Arts Foundation Courses engages students in the discovery of a wide variety of disciplines.  Most programs require students to take two courses from different departments in each of the four academic domains: natural science, social science, fine arts, and humanities.
The Augsburg Experience helps students to apply their academic study to the broader community, either locally or globally. To fulfill this requirement, students can study abroad, complete an internship,conduct research with a professor, engage in community service-learning, or participate in an off-campus immersion project.
Keystone, usually completed in the senior year, is a culmination of the Augsburg academic experience. It aids students  in identifying and synthesizing their liberal arts education, disciplinary knowledge, professional skills and vocational goals, and helps them to begin the transition life and work after graduation.