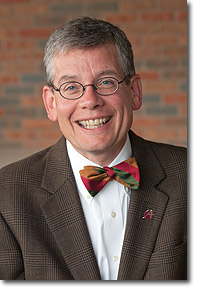 Paul C. Pribbenow, Ph.D.
Paul Pribbenow, the 10th president of Augsburg College, a private liberal arts college associated with the Evangelical Lutheran Church in America (ELCA) and located in Minneapolis, is recognized as one of the country's most engaging commentators and teachers on ethics, philanthropy and American public life.
Before coming to Augsburg College in 2006, Pribbenow served as president of Rockford College in Rockford, Ill. He also has served as research fellow for the Center of Inquiry in the Liberal Arts at Wabash College (Indiana); dean for College Advancement and secretary of the Board of Trustees at Wabash College; vice president of the School of the Art Institute of Chicago; and associate dean of the Divinity School of the University of Chicago.
Pribbenow holds a BA (1978) from Luther College (Iowa), and an MA (1979) and PhD (1993) in social ethics from the University of Chicago.  He received the Distinguished Service Award at Luther College in 2008.
Pribbenow serves on the Board of Directors of the National Association of Independent Colleges and Universities and on the National Campus Compact Board of Directors. Locally, he serves on the Minnesota Private College Council Board, Pillsbury United Communities Board, and the Oslo Center US Foundation Board of Directors. He is chair of the VocalEssence Board of Directors and the Central Corridor Anchor Partnership.
Pribbenow received the William Burke Award for Presidential Leadership in Experiential Education from the National Society for Experiential Education (NSSE) in 2012.  He also was named a McCormick Presidential Civic Leader Fellow for 2003-04 and for 2005-06.
Pribbenow is the author of numerous articles on the professions, ethics, and not-for-profit management. He publishes a bi-monthly e-mail newsletter titled "Notes for the Reflective Practitioner."
Pribbenow lives in Minneapolis with his wife, Abigail Crampton Pribbenow and their two children, Thomas and Maya.