For an EMERGENCY, dial 612-330-1717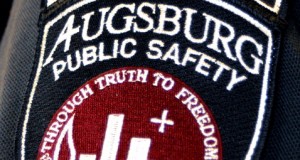 ---
Welcome
Welcome to Augsburg College's Department of Public Safety (DPS) website. DPS is an agency comprised of professional security officers and communications dispatchers. DPS offers an array of services including first response to emergency and non-emergency calls, report taking, regular campus patrols, an escort service, parking enforcement and services, keys/fob access controls, and Communications Center. We serve the Augsburg community and its guests 24-hours a day, 7-days a week to provide assistance in the most efficient and timely manner, while keeping in mind the safety and security for every one involved.
DPS is located in the Urness/Mortensen lobby (the two tall towers adjacent to I-94). Our number is 612-330-1717 (or 1717 from any campus phone).
---
Recent News and Announcements
Street Closures and Lot A Parking Reassignment for Summer Months 
In order to accommodate the next phase of the HCSBR construction project, Augsburg College will be closing South 7th Street and the majority of 21st Avenue South. These closures will begin on Monday, May 1st and will remain in place until Friday, September 1st. We will also be designating Lot A (which currently houses car pool parking spaces) as construction related parking only. Special permits will be assigned and violators will be removed. As a reminder, parking during summer months is allowed with any 2016/2017 parking permit in surface lots B, D, C, K and L. Summer permits are currently being sold for those who did not possess a 2016/2017 permit.
---
Use of Recreational Facilities in Kennedy Center/Si Melby Hall
The Augsburg Department of Public Safety would like to remind our entire campus community that facility use in Kennedy Center and Sci Melby Hall is for students, staff, faculty, alumni and authorized users. Members of these groups are not permitted to host guests in this space. Check-in procedures after regular business hours will be enforced and an appropriate picture ID will be required. Fob access will also be required after 5:00pm daily. Those found not in compliance will be asked to leave and may be legally prohibited from returning to Augsburg's campus. Any student, staff, faculty, alumni or authorized user who intentionally violates or attempts to circumvent this policy may lose access privileges as well as face appropriate disciplinary actions.