What We Do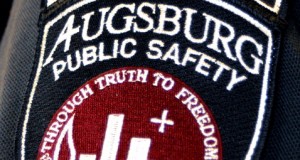 The Department of Public Safety (DPS) provides patrol, parking, workplace safety, emergency preparedness and key/lock services. Our Communications Center monitors alarms, maintains campus camera systems, dispatches calls and handles the campus switchboard. Our office is located in the Urness/Mortensen lobby (the two tall towers adjacent to I94).
The Department of Public Safety provides first response until emergency assistance is available from Minneapolis police, fire, or medical agencies. To report a fire, medical emergency, or crime in progress, dial x1717 from any campus phone or 612-330-1717 from off campus. Some additional support services provided to the campus community by the Public Safety Department are:
Maintain a 24-hour Public Safety Service Desk
Provide routine public safety surveillance
Provide escort service
Maintain proper documentation of services
Process reports to appropriate offices
Monitor public safety, fire, and maintenance alarm systems
Activate assistance as necessary from the Minneapolis police, fire, or medical agencies
Monitor campus building access and campus areas by CCTV
Enforce campus parking regulations
Work with law enforcement agencies to enforce local, state, and federal laws
Assist motorists with jump starts.
Help Prevent Crime At Augsburg!
Crime Prevention is everyone's responsibility.  Only by working together can we keep Augsburg the safe campus that it is.
Keep valuables locked and out of site.
Always lock your residence and/or office when you leave, even if a roommate/colleague is inside.
Never leave your keys or valuables unattended for any length of time.
Use a "U-lock" to lock your bicycle and include both the front tire and the frame in the lock.
Report suspicious persons or activities to the Minneapolis Police or Public Safety dispatch right away.