Register for Events
March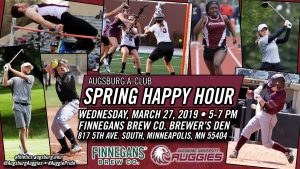 At this event you will have the chance to hear from Auggie Baseball Coach Keith Bateman, Auggie Softball Coach Melissa Lee '04, Auggie Lacrosse Coach Kathryn Knippenberg, and Track and Field Coach Keith Barnier. Enjoy complimentary Food, Beer and Parking. 
April
Tuesday, April 16, 2019, from 7 p.m- 9 p.m. at Boom Island Brewery
Do you like to sing? Do you like to support Auggies? Interested in craft beer? Then the Auggie Beer Choir is the event for you! We hope that you will join us for the inaugural kick off of the Auggie Beer Choir. We are delighted to gather at Auggie alumni-owned Boom Island Brewery.
Please register to attend so that we make sure to have enough music for everyone, this option is free. If you want to purchase an upgrade that includes a meal please register for that option. Beverages are on your own.
We hope you will "Stay with Us", and "Look to this Day" as we remember that "In Heaven, there is no Beer"…Manga Tussen!
Info Session–Sesquicentennial Heritage Tour: Germany
Wednesday, April 17, 2019, from 6:30 p.m- 8 p.m. Oren Gateway Center, Room 100
Join Dr. Lori Brandt Hale, Dr. Hans Wiersma, and Lori Moline '82 to learn more about this once in a lifetime trip through Southern Germany, the Alps, historic sites and the world famous Oberammergau Passion Play. A detailed itinerary can be found using this link. Please RSVP your attendance to this session or for any questions you may contact codek@augsburg.edu 
May
Wednesday, May 1, May 15, and May 22 from noon to 1:15 p.m. at Luther Seminary, Olson Center, Room 10
$15 per session or $45 for the series. A group registration of 10 people receives a 20% discount.
Rev. Dr. Rollie Martinson Title: Elders Rising: The Promise And Peril of Elderhood: "Vital and Resilient Aging: Living Well and Making a Difference" An "age wave" of enormous proportions and life-changing-impact is washing over us. Understanding this "age wave" provides older adults and those closest to them more options for greater vitality and resiliency. Participants will come to better understand aging and develop their own "pathway" of quality life during their senior years. Congregational and community leaders will discover how their organizations can become centers of expansive elder wellness and empowerment. For questions on the Centered Life Series, please contact Jack Fortin, fortin@augsburg.edu or 612-330-1145.
---
Please note – No refunds will be given should you need to cancel your attendance. You may transfer your admission/ticket to another person. Otherwise, your registration cost will be used to cover the cost of the ticket or will be considered a gift to Augsburg's Annual Fund.
All participants are welcome. If you anticipate needing any type of accommodation or have questions about the physical access provided, please call the Office of Alumni Relations at 612.330.1178 or email alumni@augsburg.edu in advance of your participation. We will attempt to accommodate all reasonable requests.
Please know that photos may be taken at Augsburg Events and will be shared on social media or on our website. If you do not wish to be photographed you must opt out by alerting the Alumni office in writing via email at alumni@augsburg.edu .