Thank you
For celebrating this year's Advent Vespers with us!  Photos from this year's Advent Vespers will be added here shortly.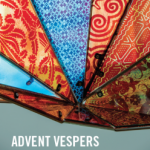 Augsburg University invites you to download the
Advent Vespers Program, 2019
and this year's Devotional.
This year in celebration of Augsburg's sesquicentennial and the 40th anniversary of Advent  Vespers, Augsburg alumni shared their reflections on series of scriptures. We hope that this devotional will enrich your Advent experience. This year's theme is Light for the World to See.
Mark your calendars now for next year's Advent Vespers on December 4-5, 2020.
---
Celebrating a Season of Hope
For four decades, Augsburg University has ushered in the Advent and Christmas seasons with Advent Vespers, a magnificent experience of music and liturgy, focusing on the theme of preparation and culminating in the joyful celebration of the Incarnation. Advent Vespers is set in downtown Minneapolis in the majestic sanctuary of Central Lutheran Church, soaring 65 feet high with large stained-glass windows.
Suggested Donations
Suggested donations, received at the door, are $30 per person. Generous contributions are greatly needed to make these services possible.
Additional Opportunity – Donate medical supplies to the Augsburg Central Health Commons. For more than 27 years, Augsburg's Department of Nursing has operated a free health-focused drop-in center at Central Lutheran Church for people experiencing homelessness or who are marginally housed. Basic supplies are needed to continue to serve more than 6,700 people each year. Consider bringing new adult socks and underwear, soap, toothpaste, diapers (size 5 or 6), Band-Aids or other simple items to promote health.
Celebrating a Legacy
Join Augsburg University Campus Ministry and the Department of Music for one of these special opportunities honoring the university's 150th year and the 40th anniversary of Advent Vespers.
Join the Liturgical Party
Participate in one or more services as a member of the liturgical team.
> Open to alumni, friends, and family
> Contact Janice Dames, dames@augsburg.edu
---
Live Stream
Can't make it to Advent Vespers this year? Need to see it again?
A live stream will be available for the 8 p.m. service on Friday, December 6 this year – Mark your calendars now & spread the word!
A link for the live stream will be added here on December 6.
---
---
Additional Questions About Advent Vespers
Feel free to contact the Music Office directly at vespers@augsburg.edu or 612-330-1265