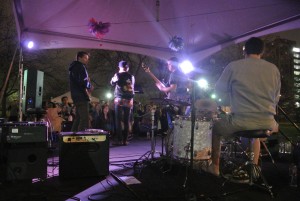 The music business major prepares students to enter today's music industry and to pursue career opportunities where the arts and commerce intersect. Course content combined with field observations and internships create a comprehensive and eclectic program unique to Augsburg and the surrounding community. In addition, arts experiences within this program prepare students for careers in fields such as the record industry, studio production, general music business, and others. In addition, this program affords both the performing artist and the business student the opportunity to pursue music business studies. The music business major has two tracks: the Bachelor of Arts in Music with Music Business Concentration (designed with a music emphasis) and the Bachelor of Arts in Business Administration with Specialization in Music Business (designed for the business student).
 Internship Placements
Augsburg Music Business students and graduates have had unique opportunities within the music industry both locally and nationally. The lists below include examples of internship placements and employers of graduates of the Music Business program.
In addition, our music business alumni currently work at the following organizations:
Saint Paul Chamber Orchestra, St. Paul MN
The Dakota, Minneapolis MN
The Schubert Theatre, Minneapolis MN
Minnesota Public Radio, St. Paul MN
Palm Pictures, New York City NY
Club 3 Degrees, Minneapolis MN
Sony Music Nashville, Nashville TN
Interscope Records, Santa Monica CA
In the Groove Music, Minneapolis MN
First Avenue, Minneapolis MN
and many others
Twin Cities
Degree Requirements
BA in Music with Music Business Concentration or BA in Business with Music Business Specialization, Degree Checklists
Faculty Contact