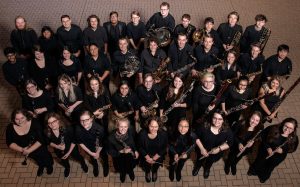 The Augsburg Concert Band, conducted by Erika Svanoe, is a 40-member symphonic band, performing wind band music of high artistic level. The group has performed and toured extensively throughout the United States and to numerous international destinations. Recent domestic tours include New Orleans, the Southwest, the Pacific Northwest and the entire Midwest. International destinations have included Ireland (2001), Iceland and Norway (2005), British Columbia (2007), Romania (2009) and Turkey (2013).
Student membership in the Augsburg Concert Band draws from a wide cross-section of a diverse student body. Students from urban, suburban, and rural areas throughout the Midwest join the band, but the demographic also includes a growing mixture of students from the entire United States and abroad. About half of the students are music majors, choosing from five undergraduate music degrees including Music Business, Music Education, Music Performance, Music Therapy, and Bachelor of Arts in Music. The degree programs chosen by other students in the band include all academic areas such as Math, Science, Sociology, Psychology, Education, Psychology, Fine Arts, etc. Many students in the band – both music majors and non-music majors – receive music scholarships and awards upon completion of a performance assessment.
4'33" by John Cage
To finish out the spring semester, conductor Erika Svanoe, D.M.A. engaged members of the Augsburg Concert Band in a unique project – A remote performance of John Cage's 4'33".  We invite you to check it out!
---
9th & 10th Grade Honor Band Festival
(new information about 2022-2023 to be added Fall of 2022)