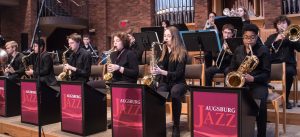 The Augsburg Jazz program, directed by Rafael Rodriquez, offers a complete curriculum that includes a big band, combos, and a vocal jazz group, each of which is directed by a faculty member. These ensembles are open to all Augsburg students through auditions each fall. Augsburg Jazz also features many guest artists and composers. Music students rehearse and perform side-by-side with some of the best jazz and gospel musicians in the Midwest, many of whom are Augsburg alumni. In recent years, the Augsburg Jazz Ensemble has performed with Steve Wiest, Bria Skonberg, trumpet; Delfeayo Marsalis, trombone; Swedish jazz artist Nils Lindberg, trombone & piano; and performed works by Dr. William C. Banfield, artist in residence.
The Augsburg Jazz ensemble also provides an opportunity to create a unique union of big band and vocal jazz that performs for conventions, churches and schools (formerly known as Gospel Praise). They have appeared at three ELCA National Youth Conventions in Atlanta, New Orleans and St. Louis as well as The Dakota Jazz Club in Minneapolis, Famous Dave's Blues Club in Uptown, and the Nobel Peace Prize Forum. In 1995, they presented a command performance for the King of Norway, and in recent years have performed for nearly 20,000 including Sheila Raye Charles, Jane Fonda, and Hillary Clinton.
2018-2019 Performance & Events:
Tuesday, October 9, 2018 – 4-6 p.m.
Homecoming: Alumni Happy Hour with Augsburg Jazz
Hoversten Chapel, Foss Center
(10/9 – parking permit)
Thursday, November 15, 2018 – 7 p.m.
Augsburg Jazz, fall concert
Sateren Auditorium, Music Hall
(11/15 – parking permit)
Monday, December 10, 2018 – 7 p.m.
Augsburg Vocal Jazz, fall concert
Sateren Auditorium, Music Hall
(12/10 – parking permit)
Saturday, March 2, 2019 at 7 p.m.
Augsburg Jazz Performance
Sateren Auditorium, Music Hall, Augsburg University

Music unites us, defying boundaries and borders. The Augsburg Jazz Ensemble is hosting a sextet from the Pontifical Catholic University of Peru. The concert will be led by Carlos Granthon, director of the Catholic University's Big Band in Lima, and will feature a short set of Afro-Peruvian Jazz songs by our visiting ensemble, along with a Latin-oriented repertoire featuring a mixed ensemble of Peruvian and Augsburg musicians. Please join us for this great intercultural experience through music!
(3/2 – parking permit)
Sunday, April 14, 2019 – 7 p.m.
Augsburg Jazz, spring concert
Hoversten Chapel
(4/14 – parking permit)
Monday, April 15, 2019 – 7:30 p.m.
Augsburg Vocal Jazz, Riverside Singers & Flute Ensemble, spring pops concert
Sateren Auditorium, Music Hall
(4/15 – parking permit)