Welcome to Choral Studies at Augsburg University!
Our program serves music majors and non-majors alike. We are committed to:
Supporting your joy in the practice and performance of vocal harmony.
Expanding your technical control over your own vocal instrument.
Strengthening your comprehension and use of the theoretical and aural tools of independent musicianship.
Exploring a diversity of vocal-harmony traditions as unique records of human and community experience.
Pursuing choral singing as peace-practice: within our campus community, together with partners in the Twin Cities metro area, and as citizens of the world.
Augsburg's vocal-music faculty team hears auditions for choral placement each fall during the first week of class. There is a place for you in one of our curricular ensembles, and we will help you find it!
VOICE STUDIO & CHORAL ENSEMBLE PLACEMENT HEARINGS,
FALL 2022
Students new to campus and interested in voice lessons and/or choral studies are asked to schedule a hearing during the first three days of Fall instruction so that ensemble and studio assignments can be made. Faculty will hear auditions also from returning choral students aspiring to placement in the Augsburg/Mirandola Chamber Collective. Please come prepared to sing a sample of something from any style in which you feel you can best express yourself as a singer. Auditionees for Chamber Collective will also be asked to demonstrate theoretical and aural command of the major and natural minor scales, sight singing of diatonic intervals from the minor 2nd to the major 3rd, and sight singing of short, diatonic melodies within the octave.
Hearings will be held in Room M3 as follows:
Wednesday, August 31             11:00-5:00
Thursday, September 1            11:00-5:00
Friday, September 2                  11:00-3:00
Sign up sheets for all ensembles will be posted on the bulletin board between the rehearsal rooms, M2 and M3, on the first floor of the music building, by August 25. 

 Sign up for your slot by 10:00 PM on Tuesday, August 30.
To clarify, returning students do not need to schedule a hearing if you:
1) have previously been assigned to the studio of one of our faculty voice instructors;
2) have previously been enrolled in any Augsburg choral ensemble and are intending enrollment in the Global Harmony Choir.

Rehearsals will begin the second week of classes.

Any registration for a choral ensemble made prior to the results of fall placement auditions should be considered conditional and subject to change.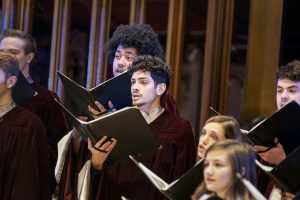 Thanks to our many choral donors, our partnerships with a host of world-class professionals supports exceptional performance experiences in vocal-harmony traditions from throughout the centuries and across the continents. MUE 111-B is open to singers without previous instruction in scale theory or music literacy. MUE 111-A features weekly work with artists-in-residence from The Mirandola Ensemble and is open to students demonstrating proficiency in diatonic scale theory and beginning sight reading skills. Anyone wishing to pass the audition for membership in Chamber Collective is encouraged to contact the director, Kristina Boerger, D.M.A. for details on what will be tested and how to prepare.
Course Registration Details:
MUE 111-A Augsburg Choir, Sec I: Chamber Collective, M/W/F 3:10-4:30 p.m.
MUE 111-B Augsburg Choir, Sec II: Global Harmony Project,  M/W/F 4:40-6 pm.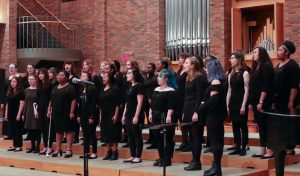 The unique curricular programming for choirs at Augsburg is made possible by the John N. Schwartz Endowment for Choral Leadership.