Welcome to Choral Studies at Augsburg University!
Our program serves music majors and non-majors alike. We are committed to:
Supporting your joy in the practice and performance of vocal harmony.
Expanding your technical control over your own vocal instrument.
Strengthening your comprehension and use of the theoretical and aural tools of independent musicianship.
Exploring a diversity of vocal-harmony traditions as unique records of human and community experience.
Practicing choral singing as peace-practice: within our campus community, together with partners in the Twin Cities metro area, and as citizens of the world.
Augsburg's vocal-music faculty team hears auditions for choral placement each fall during the first three days of class. There is a place for you in one of our three curricular ensembles, and we will help you find it!
Global Harmony Class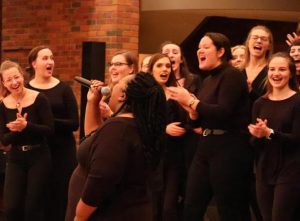 Students in this course join once a week with Augsburg's other choirs and with community partners to form the Augsburg/Twin Cities Global Harmony Choir. In this project we learn community vocal-harmony traditions from a wide variety of cultures. Instruction is given directly by culture-bearers, Zooming to us from several continents. This year's area studies will include music from: Appalachia, Black gospel communities, Madagascar, Black South Africa, Sweden, Yiddish-speaking Siberia, Muslim Bosnia, and the Republic of Georgia. Members will perform in live community events and for the annual observation of Augsburg's Advent Vespers program. No music-reading ability is required; all material will be offered orally. In some cases, scores in various notational systems will also be available.
Riverside Singers of Augsburg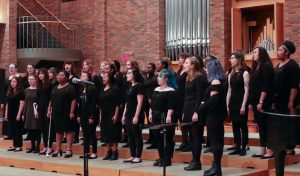 This choir carries on the valued history of treble choirs at Augsburg University. Members of Riverside Singers study and perform in concert choral traditions as well as joining in the Global Harmony project. The ensemble is featured in Augsburg's annual Advent Vespers program and enjoys a tradition of joining and hosting treble-chorus festivals. Music literacy is not required for membership, but the curriculum includes instruction and practice in the use of basic Western music notation.
The Augsburg Choir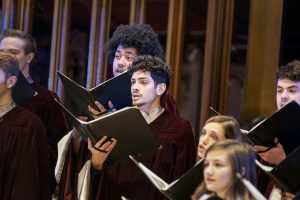 Upholding a generations-long tradition of excellence, this SATB ensemble also establishes contemporary standards for interdisciplinary relevance and community engagement. Our study and performance of wide-ranging repertoire – including involvement in the Global Harmony project – fosters independent musicianship both for aspiring music professionals and for the lifelong avocational musician. In addition to annual appearances on Augsburg's Advent Vespers program, The Augsburg Choir benefits from teaching residencies and shared performances with professional ensembles from across the country (The Rose Ensemble, Mirandola Ensemble, Dark Horse Consort, Incantare, Kaleidoscope Vocal Ensemble). Recent collaborations with community artists and organizers have illuminated local immigration histories and examined the roles of hydro-scientists and pipeline resistors in protecting Indigenous rights and our shared climate.
Membership in The Augsburg Choir is reserved for those auditionees with the strongest combination of vocalism, music literacy, and ensemble citizenship. Aspiring members seeking to improve their sight-singing prior to choral-placement auditions are enthusiastically welcomed to contact the director, Dr. Kristina Boerger, for guidance.
The unique curricular programming for choirs at Augsburg is made possible by the John N. Schwartz Endowment for Choral Leadership.