The Office of Undergraduate Research and Graduate Opportunity (URGO) connects students with both new and existing research and scholarship on campus, across the U.S., and internationally. Each summer over 30 Augsburg students participate in URGO's 11-week research program on campus, while others pursue research opportunities off campus at institutions such as Harvard, Mayo Clinic, and the University of Minnesota. 
The URGO office also assists students applying for graduate school, professional school in the health sciences (MD, PA, RN, PT, etc.), and national fellowships and scholarships. Augsburg is proud to be represented among Rhodes, Fulbright, and Goldwater scholars, and in prestigious graduate programs at universities such as Dartmouth, Johns Hopkins, and UW-Madison.
---
Mayo Innovation Scholars Program
Application now open
The Mayo Innovation Scholars Program is highly selective and brings together teams from 12 of Minnesota's private colleges and universities to analyze a product in development at Mayo. Each team of four undergraduates is lead by an MBA student and is advised by a project manager in the Mayo Office of Intellectual Property. Teams present their findings to college faculty, inventors, and Mayo Clinic representatives. Participants gain valuable experience as consultants understanding how product development intersects science, business, and bioethics. Upon successful completion of the program, participants are awarded $1,000 stipends for their work. Eligible students are undergraduates studying science, business, or economics.
The MISP application deadline is September 19, 2019.
---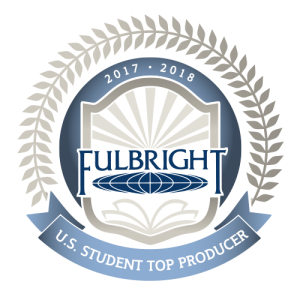 Years Augsburg has been named Top Producer of U.S. Fulbright Scholars:
  2017-2018
  2013-2014
  2010-2011
  2009-2010
  2008-2009