There are innumerable national scholarships and fellowships available to undergraduates.  Take time to explore our directory and the recommended links below to discover if there is one that is matches your qualifications and your future plans.  To ensure that you are eligible, check the programs' websites for applicant requirements and read information about previous recipients, particularly the average GPAs.  If you are then interested in applying for a national scholarship, please contact the URGO office and we can help you determine which programs are a good fit and work with you on your application.
Please note that these applications are a large time investment; you should start the process, and contact the URGO office (urgo@augsburg.edu) months in advance of the national deadline.  If the scholarship requires an institutional endorsement or on-campus interview, you must meet the eligibility criteria listed below and turn in your application to the URGO office at least 1 month prior to the national deadline in order to be considered.  Endorsements will be decided by Augsburg's Prestigious Awards Committee.  Remember: These are advertised to people all over the country, so most of them are extremely competitive and require numerous rounds of application revisions.  Be aware that many of the national programs require an internal application that is processed through the URGO office, so please contact us to discuss the application process in detail.
---
Where to start?
If you are not sure what kind of scholarship you are interested in, we recommend first exploring these popular opportunities:
Association of Professional Schools of International Affairs (APSIA)
APSIA's website is home to a filterable list of fellowships and scholarships
Students can sort for ways to fund research, study abroad, graduate school, and other opportunities
Up to $20,000 scholarships to study less commonly taught languages in world regions critical to U.S. interests, and underrepresented in study abroad, including Africa, Asia, Central and Eastern Europe, Eurasia, Latin America, and the Middle East
Boren also offers scholarships to fund a summer abroad for STEM students. Contact Dixie Shafer (urgo@augsburg.edu) or Andrea Dvorak (dvorak@augsburg.edu) for more information
You can also find information on the study abroad/study away website
Charles B. Rangel Summer Enrichment Program
A six-week summer program designed to provide US undergraduates with a deeper appreciation of current issues and trends in international affairs, a greater understanding of career opportunities in international affairs, and the enhanced knowledge and skills to pursue such careers
This program strongly encourages the application of members of minority groups historically underrepresented in the Foreign Service, women, and those with financial need
Augsburg Deadline: 1 month prior to national deadline
Clinton Global Initiative University
The Clinton Global Initiative University is looking for higher education student leaders who are committed to take action in their community to address a pressing challenge
We are looking for undergraduate and graduate students across the world who are motivated to make a positive change in the areas of education, environment and climate change, peace and human rights, poverty alleviation, and public health
Students accepted into CGI U will participate in a year-round program that includes access to: high-touch mentorship; a social impact curriculum; funding streams; and student engagement events, including the CGI U 2021 virtual annual meeting hosted by Howard University
Augsburg Deadline: 1 month prior to national deadline
Eight to ten-week intensive language study program abroad
Most CLS language programs do not require previous study of the language and participants will earn one year of language credit
Augsburg Deadline: 1 month prior to national deadline
Critical Language Scholarship Spark
Study Arabic, Chinese, or Russian through hands on through an 11 week virtual language program
Stipend of $300, fully paid instruction, and earn language credit
Applications due May 26, 2022
Fulbright UK Summer Institutes
Three or four week academic program at a highly regarded UK University
Applicants must have two years of undergraduate study remaining and a GPA of 3.7 or higher to be eligible
Augsburg Deadline: 1 month prior to national deadline
Funds recent college graduates to travel to another country for a year for:

English Teaching Assistantship
Graduate study
Research project
National Science Foundation Graduate Research Fellowship
Three-year fellowships to fund graduate study in a science, mathematics, or engineering
Augsburg Deadline: 1 month prior to national deadline
The Public Policy and International Affairs Program (PPIA) is a non-profit organization dedicated to supporting increased diversity in graduate studies in public policy and international affairs
The PPIA Junior Summer Institute (JSI) is a fully-funded graduate level preparation program for undergraduate juniors committed to public service careers
Students selected for the JSI will study over the summer on one of their participating universities: Carnegie Mellon University, Princeton University, University of California Berkeley, University of Michigan, University of Minnesota, or University of Washington
Check out PPIA's Student Resource Center for other opportunities
Augsburg Deadline: 1 month prior to national deadline
New scholarship program established in 2021 built to empower future leaders and changemakers
Scholars receive up to $50K each year for two years for tuition and fees in graduate programs, scholars will also receive two years of programming focused in leadership, mentorship, and collaboration
Samvid scholars must be pursuing a full-time 2+ year graduate program, be a first-year graduate student, GPA of 3.5 or higher, US citizen or DACA
Up to $30,000 grants to fund graduate or professional study in the U.S. or Abroad in preparation for careers in government, the non-profit sector or elsewhere in public service
GPA of 3.2 or higher is considered competitive
Augsburg Deadline: 1 month prior to national deadline
Up to $7,000 scholarships for:

Those who are college sophomores and juniors who study the environment and related fields
Native American and Alaska Native students who are in fields related to health care or tribal public policy

Applicants must have a GPA of 3.0 or higher to be eligible
Augsburg Deadline: 1 month prior to national deadline
Our Fellowships Database includes many, many more fellowships and gap year ideas. Find opportunities that you are eligible for by selecting the tab at the bottom of the spreadsheet that matches your year in school (freshman, sophomore, junior, senior).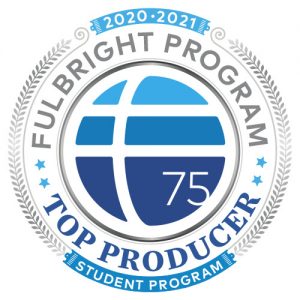 Years Augsburg has been named Top Producer of U.S. Fulbright Scholars:
  2020-2021
  2017-2018
  2013-2014
  2010-2011
  2009-2010
  2008-2009