In the summer of 2012, Tim Pippert lifted a couple of duffel bags into the back of his car and headed northwest on Interstate 94, beginning an almost 700-mile journey that drew him out of Minneapolis—beyond the steel and glass towers, the hectic grid of side streets and signs, and the flurry of Fortune 500 companies and all those who inhabit their cubicles and corner offices.
Soon, the fields of western Minnesota and eastern North Dakota lined Pippert's roadside. He rolled past patches of flax and sunflowers, wheat, alfalfa, and canola to a place where tilled acreage melted into an even more expansive landscape of ranches and natural prairie grasses. For decades—make that centuries—any description of western North Dakota seemed amiss without mentioning this place's sheer vastness of space, the way gently rolling hills and rugged badlands disappear into broad horizons hugging big, bluish-gray skies.
But now the story was different. This area was in the midst of a transformation.
---
Pippert was headed to Williston—the North Dakota city viewed as the epicenter of the latest North American oil boom. This isolated community was among a handful of towns and small cities dotting the map in four counties that together emitted a nearly magnetic pull for job seekers of all kinds.
It's likely that the route Pippert followed to Williston began in a similar fashion as the path truck drivers, frack hands, pipe fitters, hair stylists, and people working within numerous other industries took to North Dakota. That's because Pippert's curiosity with Williston was piqued by news stories describing the remarkable growth happening in this once stagnant community.
What was unique about Pippert's desire to work in the Roughrider State, though, was that he didn't plan to fill a position in the oil industry or to hold a job supporting its employees at all. Instead, he sought to study the societal change underway in Williston and its surrounding areas along with individuals' perceptions of it. Thus, he became one of the first scholars to explore what local residents perceive to be the costs and benefits of the boom.
A new research phase
As an associate professor in the Augsburg College Department of Sociology, Pippert blends teaching, scholarship, and mentorship into his work each year, with an emphasis on each aspect varying in accordance with the academic calendar cycle.
His interest in North Dakota's changing cultural and physical landscape stemmed from in-class discussions with his students. Pippert asked his Introduction to Sociology class to bring in newspaper clippings related to current events as an assignment so that, together, the students could practice analyzing information using a sociological perspective. One article on North Dakota oil came in, then another.
"That's when things were in the very early stages of the boom, and there were sensational stories about folks making money hand over fist and people moving out there with nowhere to live," Pippert said. "I'm from Nebraska, and there was only one stoplight in my entire county. I'm used to seeing all of these tiny towns decline in population or be relatively stable, certainly not growing. As a sociologist, I was just fascinated by what happens when a small town explodes in population overnight."
For years, North Dakotans were concerned about their state's population decline, but the oil boom in the late 2000s dramatically changed the socioeconomic landscape in the region.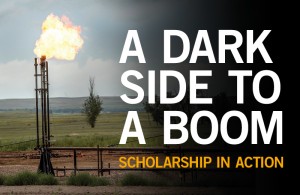 In 2013, journalist Chip Brown wrote a New York Times Magazine article that said, "It's hard to think of what oil hasn't done to life in small communities of western North Dakota, good and bad. It has minted millionaires, paid off mortgages, created businesses; it has raised rents, stressed roads, vexed planners and overwhelmed schools; it has polluted streams, spoiled fields and boosted crime."
This article is among thousands penned since the start of the boom, but Pippert's research takes an approach that's different than the one most popular news media follow.
Using a combination of quantitative and qualitative research methods over the course of his career, Pippert has examined subject areas such as the family ties of homelessness, the transition to parenthood, and the accuracy of photographic representation of diversity within university recruitment materials. As the next phase of his research, Pippert recognized that there's certainly a story related to the development in North Dakota, but it's not one that can—or necessarily should—be summarized in a 500-word, front-page exposé or in a 2-minute piece on the 6 o'clock news. Pippert is working to construct a longer narrative that is grounded in a sociological understanding of rapid population growth, allowing for an analysis of how the perceptions of local residents change over time. Of course history shows that people's opinions shift as the state of the oil industry fluctuates, which it typically does.
North Dakota has boomed before
"North Dakota has had oil booms before but never one so big, never one that rivaled the land rush precipitated more than a century ago by the transcontinental railroads, never one that so radically changed the subtext of the Dakota frontier from the Bitter Past That Was to the Better Future That May Yet Be," Brown wrote.
Since the beginning, the American oil industry's history in north central states has followed a cyclical narrative of starts and stops, booms and busts. The subterranean shale that contains the much talked-about oil covers western North Dakota and northeastern Montana, and stretches into two Canadian provinces: Saskatchewan and Manitoba. The Bakken shale was discovered in the early 1950s and named after Henry Bakken, a farmer who leased his land in North Dakota for an early well. At 14,700 square miles, it is the largest continuous crude oil accumulation in the United States. The shale has been in development since 1953 with periods of significant growth punctuating its more than 50-year timeline. For instance, in the late 1970s and early 1980s, activity picked up in the upper Bakken when improved extraction technology married political and economic conditions that left the U.S. thirsty for domestic production.
The latest boom
In the late 2000s, innovative engineering and technological refinements also played key roles in bringing about a new boom. The key to unlocking more of the often-segregated oil deposits in the Bakken shale is horizontal drilling and hydraulic fracturing, often called "fracking." North Dakota has been described as a laboratory for coaxing oil from stingy rocks. While petroleum geologists have known for decades that layers of the Bakken contain light, sulfur-free oil, it has been much more puzzling how to extract it economically.
Today, the Bakken contains some of the longest horizontal wells in the world. Drillers bore vertical shafts and then lateral shafts that extend out as far as three miles in order to harvest otherwise unreachable oil. However, horizontal drilling alone is often not enough to lure Bakken oil from the tightly clenched grasp that holds it roughly two miles below the earth's surface. The majority of the shale won't yield its oil unless pressurized water containing sand and various chemicals is pumped down the well to crack open hairline channels within thin layers of oil-and gas-bearing rock. This procedure has been environmentally controversial given that the chemicals used in fracking have been known to be or suspected of being carcinogenic or otherwise poisonous. Geologists and engineers continually fine-tune the assortment of frack fluid recipes required in varying geological conditions, and they fracture wells in stages, sometimes repeating the process dozens of times at a single location. Waste from this process must be carefully handled and monitored to avoid contaminating groundwater, polluting surface areas, or injuring workers.
Since petroleum engineers began combining fracking with directional drilling, thousands of new wells have been constructed—primarily in four North Dakota counties bordering the Missouri River: Dunn, McKenzie, Mountrail, and Williams. And, from 2006 to 2013, production from the Bakken formation increased roughly 150-fold, moving North Dakota into second place among domestic suppliers of oil, behind Texas and ahead of Alaska. This substantial growth in industry spurred a need for more of nearly everything—laborers, housing units, highways, railroads, power lines, and even patience.
"I've never seen a more hardworking place," Pippert said. "There are always things going on. I'm not sure how exactly to articulate it, but it's like there's always construction; there's always truck traffic; there's always activity on Sunday afternoons. It just doesn't stop."
The change in Williston and other boomtowns may not stop, but it does slow. This year, slumping crude oil prices have led to a decline among communities affected by the oil industry. Williston was the fastest-growing small city in the U.S. from 2011 to 2013, according to the U.S. Census Bureau. Yet, news outlets recently have described harder times. Bakken oil has always been expensive to produce and ship to refineries. So, when oil prices started to decrease in autumn 2014, oil producers tamped down their spending. This meant fewer rigs actively drilling for crude and less work for those who service new wells. In extreme cases, layoffs, reduced hours, and smaller paychecks have led workers into hard times and even out of town.
"Lots of things have changed since 2012," admits Pippert. "Now I have to write a potentially different story."
It's said that North Dakota's last oil boom, which occurred roughly 30 years ago, collapsed so quickly when oil prices crashed that people declared, "If you're the last person in Williston, make sure you turn off the lights." But what did this flight mean for the people who continued living in that community? For Pippert, it's important for sociologists to analyze how population shifts and the industrialization of rural areas strain community ties and impact the daily lives of long-term residents. This summer, he took his fifth and likely final trip to North Dakota to see how the recent slowdown has influenced life in Williston, to conduct follow-up interviews, and to hear from additional residents for the first time.
Pippert met with Deanette Piesik, CEO of workforce development organization TrainND, to discuss whether she had witnessed any signs of an oil industry downturn. TrainND serves as a link between private industry and Williston State College by facilitating safety trainings and offering worker certification programs. After the conversation, Piesik said she appreciated the way Pippert used open-ended questions such as, "How'd that impact you?" and "What do you see?" rather than asking questions that would induce a negative response.
"I guess I worry about how some of the things I say will get cut short or be portrayed the wrong way," said Piesik, whose concern applies to news coverage ranging from national broadcasts to the local press. "Now, I could have been the type of person who was totally negative and that's what you would have gotten … but I have faith that [Pippert is] writing a good piece about this oil boom and how it has changed this community. I think that's a positive piece to do."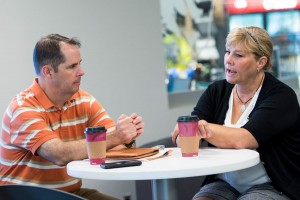 Analyzing and writing
Over the course of three years, Pippert conducted 87 interviews to gather data, and he is entering the writing phase of his research—a time when he will synthesize all of this information. Naturally, analyzing more than seven-dozen conversations will be a challenging endeavor.
"There comes a point, probably before that 87 number, where you don't learn anything new," he said with a laugh, "but it's so interesting I just wanted to keep going."
Augsburg College sociology students helped to spur Pippert's interest in the North Dakota oil boom, and they continue to play a role as this project develops. Students serve as research assistants by transcribing interviews and coding the information they contain so that Pippert can examine themes from year to year and from discussion to discussion. He plans to work with a research assistant supported by the 2015 Torstenson Community Scholars program, and he has supervised Ashley Johnson '16 as she worked on an independent project on sex trafficking in North Dakota as part of her participation in the McNair Scholars Program.
Overall, Pippert is positioned to assess the dramatic and immediate strain on infrastructure that North Dakota communities endured during the period of rapid growth occurring during the boom's first few years. He also will look at longtime residents' perceptions of oil workers and of crime.
"There are certainly more crimes taking place, but whether they are proportional to the population increase is difficult to tell," Pippert said.
It is also complex to articulate how residents felt about an influx of new people in their communities.
"As a sociologist, I'm interested in 'insider' versus 'outsider' framing," Pippert added. "There seems to be a pretty strong sentiment among locals that they were frustrated with oil field workers. The saying was, 'Go back home—unless you plan on staying.'"
This phrase, Pippert noticed, articulates that longtime residents grew tired of people simply entering their communities for work and then leaving or sending their income to families and homes in other areas of the country. The locals would have preferred for the newcomers to contribute to and make a life in their communities well into the future.
The years ahead
As time unfolds, the challenges and opportunities presented in Williston may begin to surface in other communities that are in the midst of their own dramatic population growth, and Pippert's research could serve as a study for navigating complex situations.
The oil extraction technology pioneered in North Dakota is expected to have implications around the world, but it's not only communities near oil deposits that may benefit from this scholar's perspective. Ultimately, Pippert said, his story is about how the identity of a small town changes when significant industrial development causes a population shift. It's about massive industry suddenly entering an area—any area—to utilize its resources. And when other communities follow down a similar path as Williston, it's important for them to learn from the road that North Dakota already has traveled.
"It really is about a boom," Pippert said. "But the source of its spark doesn't really matter."
---
Read "A dark side to a boom" to learn more about Pippert's efforts to curtail human trafficking in North Dakota.