By Wendi Wheeler '06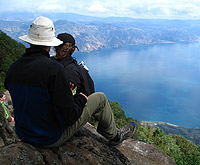 The participants in Sustainable Cities in North America used environmentally friendly transportation—bicycles, streetcar, train, and walking—to minimize their impact on the cities of Portland and Vancouver. The students also stayed in a green residence at Portland State University and toured several green buildings at the University of British Columbia.
Sustainable study abroad has recently become a topic of interest at colleges and universities across the country. Andrea Dvorak, coordinator of short-term programs for Augsburg Abroad, first became interested in "green" study abroad after hearing a presentation by Daniel Greenberg, executive director of Living Routes, at a national conference.
Following his presentation, Dvorak talked to Greenberg about getting more involved in the movement to encourage sustainability in study abroad. Greenberg was working on developing a sustainability special interest group for NAFSA: Association for International Educators and a best practices task force for the Forum on Education Abroad.
Many organizations are now emphasizing sustainability and environmental awareness in their study abroad programs, but Dvorak says the measures can be over-emphasized because "green" issues are important to students. "The challenge is not to 'greenwash' your programs to attract students," said Dvorak.
Dvorak said Augsburg's Center for Global Education, which is under the umbrella of the Office of International Programs (OIP) along with Augsburg Abroad, has been a forerunner for 25 years on social, economic, environmental, and community sustainability in its programs. "It's part of OIP's mission and what we believe in."
At the Center's site in Cuernavaca, Mexico, the kitchen staff has been composting for more than 10 years. They recently added dry toilets to conserve water, have hung clothesline for program participants to dry their clothes, and are working on planting a garden on the hillside behind the facility.
Moreover, CGE encourages students and faculty to think about the effects of their travel—everything from transportation to the purchase of souvenirs—on the local people and economy. "We ask students to consider how what they do affects the ongoing livelihood of the people in the communities," Dvorak said.
Dvorak is now encouraging students and faculty to use the Green Passport website to evaluate the environmental and socio-cultural effects of their study abroad programs. Students enter details about their program, and the site provides information on how they can study and travel more sustainably.
Biodiversity and Environmental Politics in New Zealand, another green study abroad program, will take place in May 2009. The students will have an assignment to calculate the carbon footprint of the program and will use part of the cost of the program to pay for carbon offsets.
Resources
Want to learn more about urban sustainability? The students in Sustainable Cities in North America used these books and websites:
Deep Economy, by Bill McKibben

Toward the Livable City, edited by Emilie Buchwald

World Changing: A User's Guide for the 21st Century, edited by Alex Steffen, http://www.worldchanging.com/

Centre for Interactive Research on Sustainability, http://www.cirs.ubc.ca/
Ecotrust Building (Jean Vollum Natural Capital Center), http://www.ecotrust.org/ncc/
Coalition for a Livable Future, http://clfuture.org/
Better Environmentally Sound Transportation (BEST), http://www.best.bc.ca
Society Promoting Environmental Conservation (SPEC), http://www.spec.bc.ca/
Centre for Sustainable Community Development at Simon Fraser University, http://www.sfu.ca/cscd/
Pivot Legal Society (in East Hastings, Vancouver), http://www.pivotlegal.org/