By Wendi Wheeler '06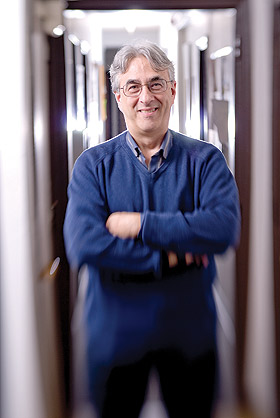 Bill Arden wants Augsburg's nontraditional students to know he's been on their side of the desk. The business and MIS professor finished both his master's degree in physics and his MBA while working full time and going to school at night.
Arden found his way to teaching after working for more than 30 years in engineering, marketing, management, and consulting. The night after teaching his first class in a management program at the College of St. Scholastica, he said he was hooked on teaching. "I left class that night thinking I hadn't had so much fun in years!"
For four years, Arden has taught in all of Augsburg's programs— in the day program, in Augsburg for Adults evening and weekend classes, and in the graduate program. His experience as a student, combined with his professional career, gives Arden a unique perspective as a faculty member in Augsburg's adult programs.
Arden says he enjoys the Augsburg for Adults classes most. "The students bring their life and work experience to the classroom." His favorite classes at Augsburg are those where students feel comfortable with a lot of back-and-forth discussion. "My best classes are the ones where my students don't take what I say as gospel and feel free to disagree with me. That way we all learn."
While this is more common in the adult and graduate program classes, he says it sometimes happens in day classes. "Those times are particularly exciting because I get to see the world through the eyes of a younger, diverse generation with experiences very different from mine."
Arden enjoys teaching at Augsburg because the small college atmosphere gives him the chance to get to know his students better and allows him to interact with his colleagues.
"And," he added, "it's only two miles from home."