by Jeff Shelman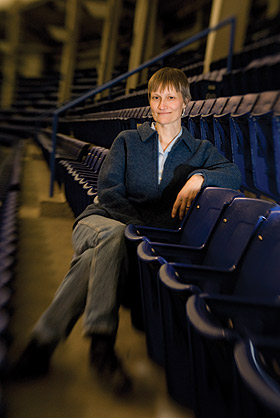 At first glance, Scandinavian art and the Metrodome might not have a lot in common. But after listening to associate professor Kristin Anderson, maybe altar paintings and baseball really do have some similarities. "They are accessible, they're well known, they aren't elitist," Anderson says. "It's art of the people. It's popular and functional. It makes sense to the masses."
Which is part of the reason why Anderson wrote her dissertation on the Metrodome, the domed stadium that is barely more than a long Justin Morneau home run away from the Augsburg campus. Anderson has spent hours studying the history of the building, how it has impacted the Twin Cities and the teams that play underneath the Teflon bubble. Like many baseball fans, Anderson won't miss going to the Metrodome after the Twins move to Target Field next season.
"It might have worked out better if they paid as much attention to the design as they did to the money," Anderson says. "It might have survived for more than 30 years. The focus was to have it be on time and under budget. The result is a cheap building that no one loves. "The concerns about finances meant the teams couldn't succeed [financially]. It kept the teams from making enough money. Nobody was happy, they were never happy and, of course, everyone wants to get out."
Explaining and teaching students about why things throughout the Twin Cites were designed the way they were is one of Anderson's favorite things. Each summer, she teaches a course titled Designed Environment, which uses art and architecture to study the history of Minneapolis and St. Paul.
In the class, which features almost no traditional classroom time, students travel the Twin Cities, visiting sites ranging from Lakewood Cemetery to the Tangletown neighborhood in South Minneapolis to downtown buildings to the Mall of America. "Tangletown was really a suburban development," Anderson says. "The reasons people moved there are the same reasons people are now moving to St. Michael."
Anderson says learning about design—and the thought behind the design process—is enlightening for the students. "The Mall of America surprises them," Anderson says. "They don't think about the design aesthetics, getting you in there, keeping you in there, and getting y ou to spend money."