By Stephen Geffre
In summer 1974, history professor Don "Gus" Gustafson took a paintbrush and a can of green paint and colored his walls to match his personality. Then the self-proclaimed "pack rat" began to stuff his office with knick-knacks, bric-a-brac, and tchotchkes collected on his travels and received from students.
More than 35 years later, neither Gus' walls nor the personality of this sandal-clad, longest-tenured professor at Augsburg have faded.

Rocking chair
Purchased for $5 at an estate sale in 1966, his large rocking chair has been a constant companion in Gus' office. The wolf skin that now covers the chair was bought at a little antique shop in Jordan, Minn. It was added to his office after the cats on his farm outside of St. Peter scratched on it one-too-many times.

Che Guevara
The photo of a mural located near the Plaza de la Revolución in Havana came from Steven Grande '03, and the Che finger puppet came from Libby Merrill '05. Che is a major figure in Gus' history seminar course.

China clock
Given to him by Paul Cumings '06, the clock actually does not work. But tiny murals of Mao and the masses holding their little red books are too cool to not display.
Xi'an terra cotta warriors
Picked up on the street near Xi'an, China. Upon closer inspection one knows why they were sold on the street— they're broken.

Burned maiden
A kitschy little statue bought in the early '70s in Athens, Ga., at a strange souvenir shop that had suffered a major fire. Gus says she's one hot lady.
Gus ginger ale
A gift from his wife, Bev, to add to Gus' "things with my name on it" collection. Not seen in this photo is a stack of "Gus" books.

African sculpture
A traditional African icon of womanhood. Gus keeps it because his master's thesis was on Africa.
Tiger beer
Brought back from Singapore by Sudy Rao '97. He and Bev collect tiger things.
Climber of the Great Wall
An "official" certificate, proving that Gus climbed the Great Wall of China. Alas, the "Witnessed by" line is blank.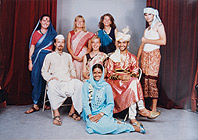 Group photo
Photographs of the last group of students Gus took to India in 1991. One side shows the day they arrived in India, and the other side was taken after three months' exploration of Indian culture. After some quick tabulating, Gus figures he's visited more than 50 countries.