The destination is the same: earning a college degree. But the paths to that can be as different as day and weekend/evening.
Compiled by Wendi Wheeler
For many, Augsburg College is a traditional liberal arts college with 18- to 22-year-olds living on or near campus. It's the place where they went just a few months after graduating from high school and spent the next four years.
There is another side to Augsburg as well. It's one where classes are held on Fridays, Saturdays, Sundays, and some evenings. In this evening and weekend program, students are older, they are more likely to have a full-time job, and they often juggle more family responsibilities than traditional day students. They study in both Rochester and Minneapolis, at four locations.
While the two groups are demographically different, the education they receive is as close to the same as possible. For example, business majors in the day program take the same courses as business majors in the evening and weekend program at all locations. Where the education differs has more to do with the life experiences students bring to the classroom.
As one way to see this, we talked to students and faculty members in a day and weekend section of English 111. This class, Effective Writing, is one that nearly every Augsburg student takes. As seen in their favorite books and authors, the younger day students tend toward escape fantasy and horror fiction, exploring the dark and the macabre. The older weekend/evening students show more interest in philosophy, psychology, and spirituality—perhaps seeking more understanding, meaning, and comfort in their lives. Enjoy "meeting" these Augsburg students.
Day Undergraduate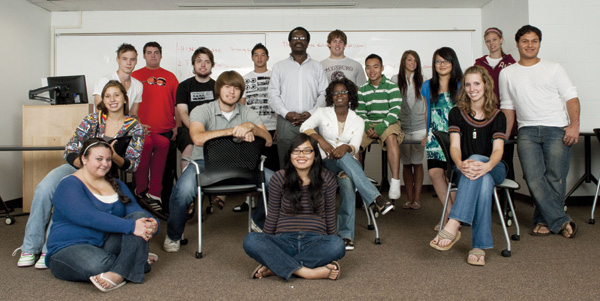 Rachel Rixen '13
French, music minor
Age: 18
Hometown: Cottage Grove, Minn.
Job: In the summer, I co-run a class for children ages 3 through 5 called "Tot Time" through the city of Cottage Grove.
Favorite books/authors: My favorite book is The Painted Veil by W. Somerset Maugham. I love his style of writing and the message that the novel conveys about forgiveness.
Michael Anderson '12
History
Age: 19
Hometown: Minneapolis
Job: I work at Gardner Hardware
Favorite books/authors: My favorite authors are Howard Zinn and Neil Gaiman. Zinn's historical analysis and Gaiman's work on Good Omens and American Gods were phenomenal.
Olivia Smith '13
Special education
Age: 18
Hometown: Maple Grove, Minn.
Job: I'm not working, but would like a job to help those less fortunate
Favorite books/authors: J.K. Rowling and J.R.R. Tolkien. I love the books they write, and how people can connect and talk about their love for their books.
Nicholas Petersen '12
Social work
Age: 19
Hometown: Plymouth, Minn.
Job: Rainbow Foods (assistant pricing)
Favorite books/authors: Haunted! A Novel of Stories, by Chuck Palahniuk. I love the way he tells his stories. His characters are twisted and complex—something you don't get from many books. Truly a brilliant writer.
Zachary Schuyler '12
Undeclared but strongly interested in business
Age: 20
Hometown: St. Paul
Job: I do not work, but I give plasma and I am looking for a work-study job or possibly a job at Mall of America.
Favorite books/authors: I don't have a favorite book, but I like short stories, and my favorite author is Edgar Allan Poe from the past and Stephen King of the present.
Charlotte Deegan '13
Elementary education
Age: 19
Hometown: St. Paul
Job: I work at an after-school day care program. In the future I would like to be a kindergarten teacher.
Favorite books/authors: I love the Twilight books and the Gossip Girl books as well.
Professor Mzenga Wanyama
Birthplace: Misiskhu, Kenya
Favorite authors: Russians Fyodor Dostoyevsky and Leo Tolstoy, who write fiction that draws from history and is deeply philosophical and humanistic.
Enjoy about teaching: The students. When they're happy, they make teaching such a fun experience.
Fall 2009 by the numbers
DAY UNDERGRADUATE PROGRAM
Total students enrolled: 2,013
Average age: 21
Male/female ratio: 50/50
Students of color (total): 25%
Students of color (first-year class): 42%
EVENING/WEEKEND UNDERGRADUATE PROGRAM (Minneapolis Campus)
Total students enrolled: 809
Average age: 35
Male/female ratio: 37/63
Students of color: 15%
111 Undergraduate Evening/Weekend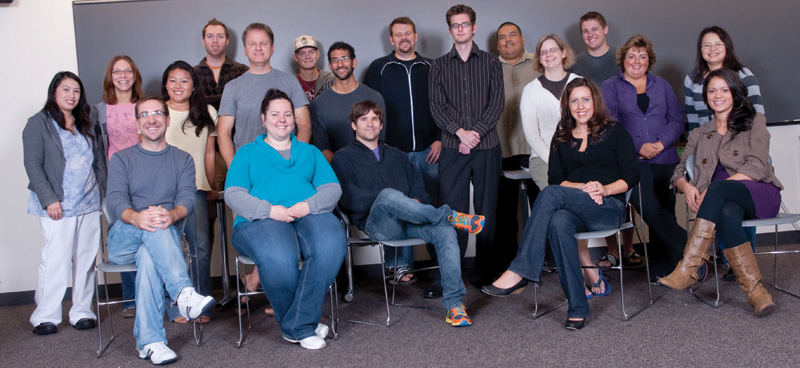 Lea Davenport '13
Education
Age: 38
Hometown: Princeton, Minn.
Job: Teacher—of what sort, I am not sure yet.
Favorite books/authors: I read mostly suspense novels with a little romance. I love to read books by many different authors (there are so many out there), but one of my all-time faves is Iris Johansen. Her characters are really well written and there are times I don't figure out who dunnit until the end!
Philip Sturm '13
Religion/philosophy
Age: 29
Hometown: Memphis, Tenn.
Job: Corporate security/executive protection
Favorite books/authors: Maurice Merleu-Ponty, Edmund Husserl, Descartes—because they return philosophy to the immediate phenomenological intimacy of living in our world and address the existential subjectivity of personal being, thus avoiding the objectification of our lives into meaningless abstraction. Other than that, Catch-22 and other post-War fiction addressing the extremes of our actions and their dubious justifications.
Mandi Rae '13
Communication studies
Age: 28
Hometown: Andover. Minn.
Job: Project manager at Aveda
Favorite books/authors: The Shack is my favorite recent read. After the death of my 14-year-old cousin, it was a comforting and controversial look at God and heaven. It was an interesting perspective that gave me somewhat of a sense of peace.
Brett Johnson '13
International business/computer science
Age: 37
Hometown: Minneapolis
Job: Implementation consultant. I hope my degree adds an "international" to the beginning of that job title.
Favorite books/authors: The Four Agreements series by Don Miguel Ruiz. A New Earth by Eckhart Tolle. They help me to stay in the here and now and focus on what's relevant.
Brianna Diaz '13
Finance
Age: 26
Hometown: Minneapolis
Job: Operations assistant/property management business systems administrator (say that three times fast!) for NorthMarq Real Estate Services
Favorite books/authors: My favorite book is War Child by Emmanuel Jal. It is a story of a young boy soldier in the civil war in Sudan who survived tragedy and the loss of his family to become a popular musician supporting the GUA Africa Foundation. Very powerful!
Joseph Anomalay '13 or '14
Marketing/international business
Age: 30
Hometown: Minneapolis
Job: Cabinetmaker
Favorite books/authors: Brave New World by Aldous Huxley and Midworld by Alan Dean Foster. I like them both for the perspectives they give on people and the world around them. Every time I pick them up I glean something different out of them.
Professor Cary Waterman
Birthplace: Bridgeport, Conn.
Your best writing: I've published three books of poems.… It's difficult to say which book or poem is "best." I like and appreciate all of them.
Enjoy about teaching: I value the things I learn from my students. And I value what I am able to teach them. The classroom is a place for the exchange of ideas, for the work of the imagination, and for the appreciation and discussion of complex issues. I am very grateful for the opportunity to participate in this essential activity.