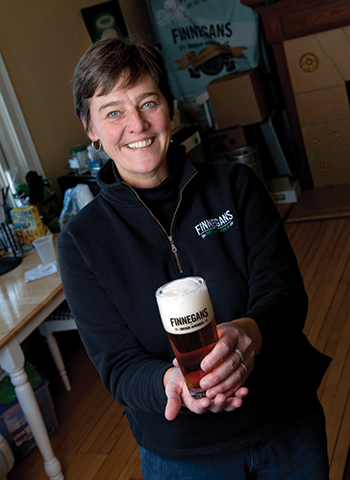 By Bryan Barnes
"I read this article in Time magazine, interviewing all of these 80- and 90-year-old people," said Jacquie Berglund '87. "The overwhelming feedback from their question, 'If you could change one thing, what would it be?' was that they all wish they had taken more risks."
That was 1983, when Berglund was in her first year at Augsburg College. Since then, she has faced many risks on her way to building one of Minnesota's most successful social enterprises—an enterprise that uses beer sales to fund its community foundation.
One of her first risks? Backpacking through Europe during her sophomore year in the face of parental disapproval.
"My parents didn't want me to do it," Berglund said. "[My English professor] said, 'Jacquie, you should absolutely do it. Let's come up with a way for you to get credit for it here.'"
With that, Berglund ventured across the Atlantic for six weeks under the banner of an Augsburg creative-writing course. Her experience fostered a travel bug that would lead her back for a seven-year stay in France after Augsburg. "[Backpacking] helped me to think globally and really changed my perspective," Berglund said. "That was a powerful turning point for me."
Graduating from Augsburg in 1987 with a degree in communication studies and a minor in political science, Berglund combined an interest in nonprofits with her travel experience to pursue work in international development. By 1990, she had taken an internship in Paris at the Organisation for Economic Co-operation and Development (OECD), the same group that helped administer the Marshall Plan after World War II. With the collapse of the Soviet Union, Berglund found herself working with the best entrepreneurial minds at OECD to develop regional economies in former Soviet bloc countries.
"We were training government officials, and these guys were all communists—they didn't want to learn [about how to build free markets]," Berglund said. "I felt like we went in and did all of this work and spent all of this money, and I don't know what impact we really had. Then I thought, 'You know, I think the real work is done at the grassroots level.' I would see the people at the grassroots level in these countries and they were really making a difference, and I thought, 'That's where I have to be. I've got to get there.' I just didn't know how I was going to get there, but that's where I wanted to go."
While at OECD, Berglund earned her master's degree in international relations from the American Graduate School in Paris. However, by 1997 Berglund found herself needing expensive back surgery, so she returned to the Twin Cities to work as marketing director for her old friend, Kieran Folliard, restauranteur and owner of Cara Irish Pubs LP.
One of Berglund's duties as marketing director was to help Folliard distribute charitable gifts in the Twin Cities. They found themselves giving grants to any organization that asked. Eventually, their CFO put the brakes on their charity bonanza and told them they needed a better strategy. Berglund agreed; she recognized from her OECD days that the Cara Pubs money wasn't making the desired impact. Berglund had also just attended a conference in Washington, D.C., on self-sustaining nonprofits.
"That's when I thought: we sell beer all day," Berglund said. "What if we create our own beer, and we choose to give all of the profits from this one beer to our own foundation, and then we pick one cause, and we really make a difference? It took me a little while to sell Kieran on the idea."
With that, Berglund and Folliard set about creating Finnegan's Irish Amber, named in reference to James Joyce's final work. They contacted James Page Brewing Company in Minneapolis to help them create the beer, eventually selecting one recipe from more than 40 options provided by the brewmaster.
At this point, Berglund and Folliard realized that running Finnegan's and its community foundation would consume all of Berglund's time. That left one choice: quit Cara Pubs and focus on Finnegan's, or let the idea die.
Berglund bought the Finnegan's recipe for $1 from Folliard.
"That was kind of scary, leaving that job, from having a good salary to no salary," Berglund said. "It was very scary. It was rather terrifying. I've had a lot of terrifying moments—I must handle stress well. I'm still walking and talking and not in a straitjacket."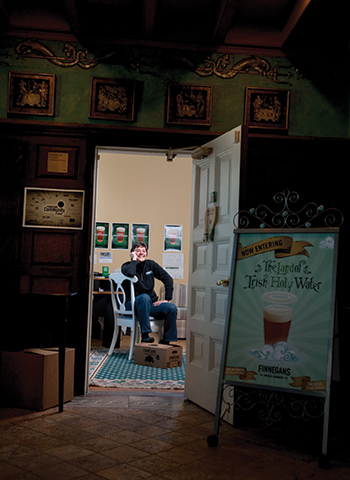 Starting in 2000, Berglund created for-profit Finnegan's Inc., which donates all of its profits from beer sales to her nonprofit creation, which is now called Finnegan's Community Fund. She taught herself the beer trade. James Page produced Finnegan's on contract, but she was responsible for selling it to distributors.
"I didn't even know what a keg fee was," Berglund recalls.
Finnegan's community focus sold the beer. Distributors, liquor stores, bars, and restaurants in the Twin Cities were sympathetic to Berglund's cause — and it helped that the beer was popular during the burgeoning craft brew craze. Though she wasn't turning a profit yet, Berglund was able to make a $2,000 donation in her first year of operation.
Then, James Page Brewing Company shut down in 2002.
"I was a mess—I was totally a mess," Berglund said. "I started to panic, 'If they go out of business, I'm going to go out of business.'"
Thinking quickly, Berglund contacted Mark Stutrud, founder of Summit Brewing Company in St. Paul.
"They really didn't do contract brewing, but I think that [Stutrud] appreciated the community-mindedness of what I was doing," Berglund said. "Plus, I already had a list of accounts, so I already had a proven track record that I could make this thing work."
To this day, Finnegan's is produced at Summit. In 2003, Finnegan's made its first profit. By 2009, Finnegan's was selling 4,300 barrels per year to 475 restaurants and 600 liquor stores in Minnesota and beyond, which translated into $30,000 for the Finnegan's Community Fund. That money, in addition to direct donations, is being used to fund local grassroots community organizations that are helping the working poor.
"When I came back from France, I volunteered in St. Stephen's shelter in Minneapolis," Berglund said. "I got to see for myself … a lot of these guys get up to work factory jobs at 3 or 4 o'clock in the morning. I saw how many of these guys were working and still homeless."
The needs of the working poor strike a personal chord for Berglund. Growing up, her father started working as a janitor before moving up the ranks, while her mother was a waitress.
"I remember as a kid not being able to participate in church activities because we didn't have the money," Berglund said. "I feel so fortunate to be able to have done all of the things that I do. I think that, 'Boy, it's nice to give back a little bit.' We owe a bit of gratitude."
That background helps explain Berglund's drive to build a self-sustaining nonprofit that can help the working poor regardless of government grants or philanthropic whims. But it also comes down to faith in your vocation.
"Whenever I do speaking engagements, that's my whole thing: It's about following your passions, and then at some point, the dots will connect. Even though it seems so remote that they could possibly connect," Berglund said. "When I came back and was working in the pub, I thought, 'What am I doing here? How does this connect to this whole dream job I had of international development projects?' I just had faith that it's going to come—I'm going to find it. It's kind of that whole 'calling' thing at Augsburg—I knew I was going to find it, it was just going to take a minute."