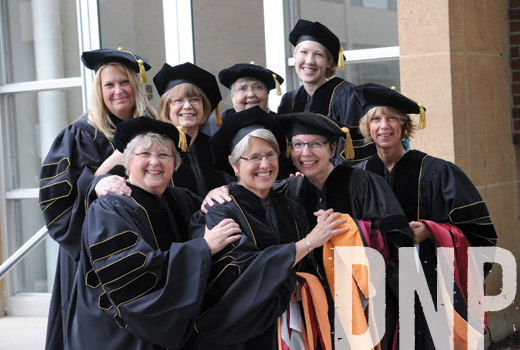 Back Row [L to R]: Kristin McHale '08 MAN; Susan Loushin '03 BSN, '06 MAN; Mary Ann Kinney '04 MAN; Kaija Freborg Sivongsay '08 MAN
Front Row [L to R]: Joyce Miller '02 BSN, '05 MAN; Katherine Baumgartner '05 MAN; Jean Gunderson '03 MAN; Deb Schuhmacher '04 MAN
At this year's June commencement, Augsburg College graduated its first cohort of students in the Doctor of Nursing Practice (DNP) program. The DNP program, which began in 2009, is the College's first doctoral program.
The DNP curriculum focuses on transcultural nursing in community life, and the program has given students new perspectives on treating people and illness.
Katherine Baumgartner '05 MAN has been a member of the nursing faculty since 2005. For her, the DNP program was a logical fit to expand her journey and practice and to strengthen and deepen her knowledge in transcultural nursing. An ongoing focus of her study and practice has been providing training and skill building for health promoters in indigenous communities in rural Guatemala.
Baumgartner said the DNP program reminded her that her own experiences matter and encouraged her to go forward with her work in Guatemala. "I learned that the practical wisdom borne from my own experiences is not to be minimized," she said. "That's not a classic outcome but is so important to my work."
Joyce Miller '02 BSN, '05 MAN also has taught for the past five years in the Augsburg nursing program. Her career focus has always been on leadership, she said, and she felt the DNP program would add a different dimension of care to her practice.
"This program has changed the way I look at the world and patients and the way I envision health care," Miller said. "I ask who isn't being cared for and how we can make sure everyone is being cared for in the same way."
Miller said she has learned to value "metis," a term that refers to collective wisdom, and to respect its role in the nursing practice. "There is tremendous wisdom that we can learn from indigenous healers," she said. The nurses learned from the practices of healers in Mexico, Africa, and Native American traditions. "This program has given me the ability to stand back and respect everyone for who they are and what they bring," Miller said.
Jean Gunderson '03 MAN was one of the first students to graduate from Augsburg's nursing master's degree program and is also one of the first doctoral graduates. A public health nurse for the majority of her career, Gunderson says she has dedicated her whole life to creating systems of care that resonate with cultural diversity.
"This program has been lifelong learning for me," Gunderson said. She added that the program has transformed her models of care and helped her recognize diverse ways of knowing. She also said she has been moved to honor and recognize indigenous wisdom and to work in partnership with healers.
Both Miller and Gunderson said that being "pioneers" of the DNP program has been rewarding. "We jumped right in with huge faith and helped to co-create the program," Gunderson said. "We felt like we were partners."