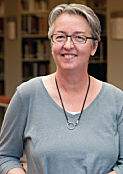 In July, Augsburg College welcomed Karen L. Kaivola as provost and chief academic officer. Kaivola serves in a key leadership position as the second in command to Augsburg College President Paul C. Pribbenow.
Kaivola has wide-ranging responsibilities, including working with faculty, administration, and the Board of Regents to implement the College's strategic vision; providing oversight of the accreditation process, as well as planning, development, and administration of the academic program for graduate, undergraduate, and international programs; academic budgeting; and leadership of and advocacy for the faculty.
She most recently served as the associate provost for faculty development and J. Ollie Edmunds Chair in English at Stetson University in DeLand, Fla. She holds a master's and a PhD in English from the University of Washington and a bachelor's degree in English from Georgetown University.