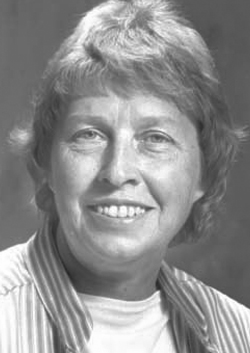 Lifelong teacher.
Pilot.
Regent.
Dean of Academic Affairs.
Mom.
Entrepreneur.
Cook.
These are only a handful of words and titles that describe Marie Olive McNeff, a dedicated leader in the Augsburg College community for nearly 40 years, who passed away August 23 at her home following a yearlong battle with cancer.
McNeff's commitment to the College crossed all departments, but started in 1968 when she was a member of the Education Department. McNeff taught for 27 years in the College's elementary education, adult undergraduate, and Master of Arts in Leadership programs.
"Marie's willingness to think 'large' and beyond traditional bounds and take calculated risks serves as a model for all of us in the Education Department," said Vicki Olson, director of the Master of Arts in Education program, in a 2001 nomination of McNeff for the Spirit of Augsburg Award.
"Always we have been challenged by Marie's 'reach for the stars' attitude," Olson said. "She pushed, prodded, and encouraged us to think large. Sometimes we could, often we couldn't. As I grow older, I find that those stars don't seem as far away, and that is largely due to the conditioning and practice that Marie has led me through."
In 1995, McNeff was appointed vice president of academic affairs and dean of the College. She left this position in 1999 to spend her last year prior to retirement as Augsburg's academic master planner, creating a blueprint to implement the academic provisions of Augsburg 2004, a College vision document. She was elected to the Board of Regents in 2005 and served in that position until her retirement.
"I became Marie's student when I arrived at Augsburg and slowly realized that this remarkable woman did indeed have the heart of a teacher. She did strive each and every day to create opportunities for learning—learning that was grounded in community, learning that was lifelong, learning that changed lives," said Augsburg College President Paul C. Pribbenow in his eulogy for McNeff.
"I was invited into her extended classroom, where she taught me about Augsburg and its deeply held values—about community and shared leadership and walking the talk. She taught me about ways in which a small business such as SarTec can partner with a college like Augsburg to serve our mutual needs and aspirations. She taught me to dream big and then give away what you find. She taught me courage and resilience."
McNeff's reach extended into many areas outside of Augsburg, most notably in her commitment to McNeff family businesses where she served in varied roles, including as assistant to the president at SarTec Corporation, president of McNeff Research Consultants, and member of the Board of Directors of Ever Cat Fuels.
It was in her role with SarTec that McNeff's commitment to mentoring, leadership, and hospitality was again made evident. Every day McNeff prepared lunch for employees of the company. Staff and family would gather in fellowship and community just upstairs from the offices.
McNeff was a graduate of Genoa High School in Genoa, Nebr., and earned bachelor's, master's, and doctoral degrees in education from the University of Nebraska-Lincoln. She was a member of the Anoka United Methodist Church and held a private pilot's license.
As an educator, leader, entrepreneur, and philanthropist, McNeff was deeply committed to the vision for the Center for Science, Business, and Religion, and the McNeff family is a great benefactor of the College.
She was preceded in death by her parents and a brother, LeRoy Rockey. She is survived by her sister, Marece; her husband, Larry; her son, Clayton '91, and daughter-in-law, Denise; and three grandchildren: Charles, Alexander, and Bridget.
Memorials may be directed to the Augsburg College Center for Science, Business, and Religion (augsburg.edu/giving).