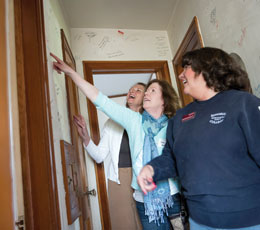 On May 1, the campaign for the Center for Science, Business, and Religion surpassed its $50 million fundraising goal. To make room for the construction of this new academic building, the College razed two existing houses on campus.
One of the structures was occupied by the Admissions Office from 1970-2003 before that department moved to a more student-accessible location in Christensen Center. The house also was home for a time to the Center for Counseling and Health Promotion (now called the Center for Wellness and Counseling), which has relocated to the first floor of Anderson Residence Hall.
A second house, formerly called Delta House, was first used for student housing. It was later home to various Admissions staff, then the Sabo Center for Democracy and Citizenship, which has moved to the Oren Gateway Center.
Before these two buildings were removed, an event was held to honor the work and experiences of staff and residents who once occupied the spaces. There were 30 people in attendance, some even traveling from as far as North Dakota and New York.
Learn more about the next steps for the CSBR.