What started out as a group of first-year Auggies from Washburn High School in Minneapolis commuting to campus for classes led to friendships that have transcended job relocations, marriages, losses of parents, and births of grandchildren. Now those Auggies—dear friends for nearly a half-century—are celebrating their life-long relationships and Augsburg's role in bringing them together by buying a brick to support the College's new Norman and Evangeline Hagfors Center for Science, Business, and Religion.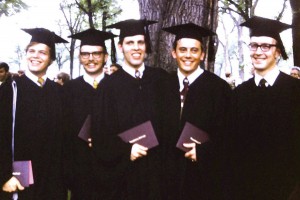 In the late 1960s, after spending a year commuting to college, the friends decided to live on campus. Although they put their names in the housing lottery, they came up empty. The group learned from facilities staff that there was a house on campus that needed some fixing up and that, if the group was willing to do the work, they could move in.
The group cleaned, painted, and got the house ready to live in. John Hjelmeland '70 and Paul Mikelson '70 moved into the house in the fall of 1967.
By winter break, more Auggies moved into the house: John Harden '69 and Phil Walen '70 from Washburn High and Terry Nygaard '70 from Columbia Heights.
The five roommates spent the remainder of their time at Augsburg in the house located where the Charles S. Anderson Music Hall now stands. While the friends all pursued different fields of study, their friendship remained as strong then as it does now.
After graduation, Mikelson married and left for a U.S. Army position in Germany, and Hjelmeland and Walen moved out of state. During that time, the group started to circulate a handwritten chain letter as a way to stay in touch. Each of the friends lived in a different city, and the group kept the letter in circulation for 10 years.
Eventually, all five Auggies returned to the Twin Cities and began to meet for monthly lunches. This past September, Walen passed away, but the remaining four friends continue to meet regularly.
"Augsburg was the place where we cemented our friendship and kept it going all these years," Mikelson said.
While Walen was still alive, the five former roommates together bought a brick to commemorate their camaraderie and Augsburg's place in it. The brick, which will be displayed as part of the new Hagfors Center, will be inscribed, simply, "2207 S. 7th St."
---
There is still time to participate in the campaign for the Hagfors Center!
Buy a brick to honor a family member, a teacher, a friendship, or a relationship that defines Augsburg for you. Augsburg will inscribe a brick with your name or the name of someone you'd like to honor. Each brick will be incorporated into the building of the Hagfors Center, creating a lasting legacy for the future of Augsburg.
Foundation Brick (40 characters, 3 lines) = $250
Legacy Brick (80 characters, 6 lines) = $500
Learn more at augsburg.edu/csbr or by calling 612-330-1085.