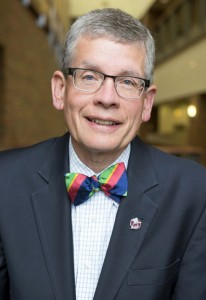 In recent issues of Augsburg Now (apparently still the name of this fine publication—see Around the Quad), I've written about our Augsburg2019 vision to be "a new kind of student-centered urban university, small to our students and big for the world." I've also turned cultural myths on their heads, arguing that colleges should be student-ready and not the other way around.
As compelling as our vision is, the student-centered and student-ready Augsburg still has at its heart a distinguished and dedicated faculty whose commitment to our students and their education is as it always has been—unparalleled, hard-working, and full of imagination and resolve. In other words, as we aspire to be student-centered, we will always be faculty-guided.
In all of my travels to visit alumni on behalf of Augsburg, the conversation inevitably turns to the faculty member who asked the right question, introduced a new way of thinking, became a mentor, stayed in touch, changed my life. The values and commitments of the legends of Augsburg's faculty—Christensen, Chrislock, Torstenson, Quanbeck, Peterson, Nelson, Colacci, Sateren, Mitchell, Hesser, Shackelford, Gus, Gabe—are now alive in the Augsburg faculty of the 21st century.
And some of their stories are in the pages that follow.
Stories of creative and groundbreaking teaching, such as the work of Associate Professor of Political Science Joe Underhill, whose 15-year dream to spend a semester with students on the Mississippi River is now a reality with this fall's "River Semester." Imagine a dozen students, two faculty members, and a river guide or two traveling almost 1,800 miles from St. Paul to New Orleans in canoes, engaging the biology and politics of the Mississippi River over three and a half months. Makes you want to go back to college!
Stories of relevant and timely research, such as the project undertaken by Associate Professor of Sociology Tim Pippert to explore the impact of the oil boom in North Dakota, seeking to understand the various social implications for the communities at the center of the dramatic change. It's the Gold Rush all over again, but with 21st century challenges to the well-being of individuals and communities.
Stories of faithful service, which has been recognized by President Obama in naming Augsburg one of five finalists (for the second year in a row) for the President's Award for Interfaith Dialogue and Service. Our robust interfaith work with students and our neighbors is led by faculty members Martha Stortz and Matt Maruggi from the Religion Department, along with College Pastor Sonja Hagander and Distinguished Fellow Mark Hanson '68. And don't miss the fun interview with Nancy Fischer, associate professor of sociology and urban studies, who ties her research about secondhand clothes to serving the needs of our neighbors.
For almost 150 years, it has been Augsburg's faculty who have guided our work as a college and whose wisdom and experience have equipped our students to change the world. May it always be so.
Faithfully yours,
Paul C. Pribbenow, President