1960-1969 | 1970-1979 | 1980-1989 | 1990-1999 | 2000-2009 | 2010-2015 | Graduate Programs
---
1960
Rev. Dennis Glad '60 and Barbara Glad of St. Francis, Minnesota, have led nearly 1,000 volunteers on mission trips to 14 Caribbean islands, Costa Rica, and Belize over the past 25 years. Working on a volunteer construction team, the Glads and their crew have built schools, clinics, churches, orphanages, and more. In April, the couple received WCCO Radio's Good Neighbor Award, and they are now in the station's Good Neighbor Hall of Fame. In 1999, Rev. Glad retired after serving in the United Methodist Church for more than 40 years.
1964
Roger Johnson '64 was presented with the Donald Clark Memorial Award at Minnesota Hockey's annual banquet in April. The award is given to an individual who has been dedicated to the grassroots growth and development of youth hockey in Minnesota. Johnson was the head coach for boys' hockey in Fergus Falls, Minnesota, from 1965 until 1972 and then was varsity assistant and junior varsity head coach for the next 27 years until 1999. He is a substitute teacher and a volunteer general manager for the boys' hockey team. 
1967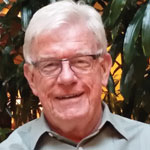 In March, the
Rev. Terry J. Frovik '67
and his wife, Pauline, were invited by Archbishop Nemuel Babba to participate in the installation service for the Rev. Peter Bartimawus, who was elected Bishop of the Gongola Diocese of the Lutheran Church of Christ in Nigeria (LCCN). The service took place in Bartimawus' home village of Guyuk.
1969
Royce Helmbrecht '69graduated with a degree in education. Today, 47 years later, he works as a substitute teacher with students who struggle to get through school. He also teaches jail inmates for the GED program. He says the Lord intervened in his life and directed him to Augsburg, and he feels blessed to have followed the Lord's direction.
1971
Mary (Soulen) Johnson '71is the new branch assistant at Minnesota's Aitkin Public Library. She especially enjoys working with children at the library and at the Aitkin Children's Center. As a volunteer at Wild and Free in Garrison, Minnesota, she helps with feeding animals and assists with fundraisers. Her leisure activities include gardening, walking, biking, and reading.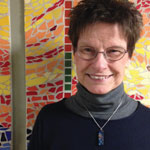 Three years ago at Valley of Peace Lutheran Church in Golden Valley, Minnesota, three parishioners took on a Lenten art project to create a mosaic for their church entry. Led by
Barb (Durkee) Mikelson '71
, the committee also included
Emilie Moravec '07
and
Jon Daniels '88
. The design, primarily Mikelson's work, echoed the stained glass window design in the church's sanctuary created by the late
August Molder
, an Augsburg professor. Mikelson served the past 12 years as director of her church's early childhood education center, All God's Children Learning Center, and retired in January. The school's leadership is now in the able hands of another Auggie,
Courtney Gadbois-Brumbaugh '95
. 
Read "Finding Art in Pooling Brokenness"
.
1974
Building hope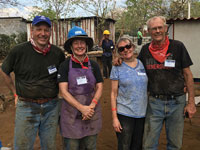 In March, Bob Strommen '74 volunteered for a Habitat for Humanity project in Nicaragua. He joined cousins Tim '70 and Dawn (Hofstad) '70 Strommen, and Judy (Knudson) Strommen '77, and was overwhelmed by the magnitude of poverty in the small village where they worked. The trip was Tim's third visit to the same site.
Bob writes, "Prior to our venturing out, we had an orientation led by our Nicaraguan Habitat leader, Aleandra, who reported that there was a need for more than 600,000 homes in Nicaragua—either new builds or fixing up existing homes in desperate need of repair. And we were going to build one home. At the time I thought, 'What difference will this make? How do you tackle such an overwhelming need?'"
Upon meeting the eventual homeowner, her daughter, and grandchildren, Bob soon learned that their work in that one week would make a life-changing impact for the family.
He'd considered the impact they would make on the family of the house, but did not comprehend the impact that the people and volunteering would have on him, saying: "My goal is not to be better than anyone else, but to be better than I used to be." Read more.
---
1982
Maryann Sullivan '82 and Rhonda Laurie have been entertaining listening audiences and swing dancers for the past three years. In February, the two performed "Swingin' a la Carte" as part of the Jazz@St. Barney's concert series at St. Barnabas Lutheran Church in Plymouth, Minnesota, reflecting the singers' love of cooking through jazzy food songs. Sullivan attended Augsburg as a flute student, studied broadcasting at Brown Institute, and has worked in radio and as a voice-over artist. After appearing at venues that draw swing dancers, she teamed up with Laurie to create the duo Retro Swing Sister.
Scott Whirley '82 and Henry Gerten '98 were inducted into the National Wrestling Coaches Association Division III Hall of Fame in a ceremony in Cedar Rapids, Iowa, prior to this year's NCAA Division III Wrestling National Championships. Whirley and Gerten are the ninth and 10th Auggies to be inducted into the NWCA Division III Hall of Fame.
1985
Lisa Svac Hawks '85 sees Augsburg College as a "pillar of faith," one of the reasons she chose the College and why she continues to be involved. She served six years on the Alumni Board and is a founding member of Augsburg Women Engaged. Hawks is vice president, external communications, for United Healthcare Services. She is focused on helping simplify the complicated health care landscape for the consumers so that they can live healthier lives. In her spare time, Hawks enjoys gardening, cooking, and playing golf and other sports. She also enjoys coaching her 10-year-old son Andrew's baseball team, which she has done for the past three years. Read "Corporate Coach".[/block]
1988
Jeff Judge '88 successfully defended his doctoral dissertation at Minnesota State University. His thesis was "Spirituality in Higher Education: A Narrative Analysis of its Use by Leaders for Decision-Making." Judge graduated from Augsburg with bachelor's degrees in music education and Spanish, and received a master's in Spanish from Middlebury (Vermont) College. He lives in Minnetonka, Minnesota, with his wife, Jeannie, and their three teenagers: Nico, Danny, and Clare. He is the dean of the humanities division at Normandale Community College in Bloomington, Minnesota.
1989
Troy Bakker '89 received a doctorate of science degree from Dakota State University in Madison, South Dakota.
Stephen Hindle '89 has been appointed practice lead at the partner level for Aon Hewitt's assessment and leadership practice for Asia, the Middle East, and Africa. He also is the face of Aon Hewitt in these markets. His responsibilities include commercial management of all assessment and leadership business across 14 countries as well as all operations, solution development, and mergers and acquisitions activity in these markets. He is based in Singapore with his wife of more than 21 years, Adean, and their two daughters, Claudia and Madeleine.
1992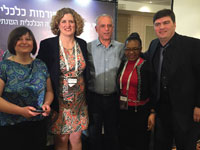 Heat

her Johnston '92
(second from left) was invited to speak at the annual conference of the Municipal Finance Directors of Israel in Eilat, Israel. Johnston is president of the Government Finance Officers Association of the United States and Canada. Johnston serves as the city manager for Burnsville, Minnesota.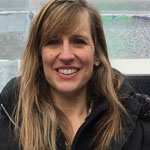 Rosa

nne Newville Bump '92
plans events, including the St. Paul Winter Carnival as president and CEO of the Saint Paul Festival & Heritage Foundation. She received her MBA in 2010 from the University of Wisconsin-River Falls. She has stayed in touch with many of her Auggie classmates over the years, and is pleased that both the St. Paul Winter Carnival and the Cinco de Mayo organizations benefit from the help of Augsburg interns as they plan events. She lives with her husband of 28 years,
Jeff Bump '85
, and their three daughters (Madelyn, Ella, and Julia) in River Falls where she served for nine years as CEO of the River Falls Chamber of Commerce and Tourism Bureau.
Read "Celebrating Community with St. Paul"
.
1996
As twin sisters, Kaja Foat '96and Zoe Foat '96 have shared a lot in life—a last name, a love of color and nature, and a vision for a more ethical world. In 2002, the sisters followed their shared vision to create FOAT. Their goal was to offer a refreshing, eco-conscious alternative in women's fashion, starting with yoga apparel. Since then, they've expanded their designs to additional lines of one-of-a-kind garments and wedding gowns, and their workspace to studios in Minneapolis and Charleston, South Carolina.
1999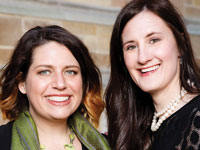 [L to R]: J. Roxanne Prichard, associate professor of psychology and neuroscience, and
Jeanne "Birdie" (Ramacher) Cunningham '99
, associate director of health and wellness, have created and launched the Center for College Sleep at the University of St. Thomas in St. Paul.
2000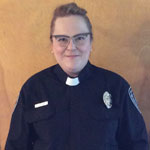 Sara 

(Quigley) Brown '00
received her chaplain badge for the Alaska Police and Fire Chaplains Ministry, a statewide nonprofit that serves police and fire personnel. The program follows a strict training that mirrors the training of police officers. 
Brown will return to the Twin Cities in August to attend a clinical pastoral education residency through which she will receive certification to become a hospital chaplain.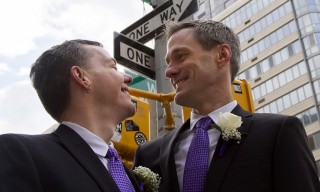 Ross Murray '00, 

'09 MBA

,
has
been issued a call from the Metropolitan New York Synod in New York City to be consecrated as a diaconal minister and focus on LGBT advocacy at GLAAD. He and
Richard Garnett '07, '09 MBA
were married in April.
Augsburg theater alumni Stephanie Lein Walseth '00, Quinci Bachman '15, and Jorge Rodriguez '15, and Professor Emerita Martha Johnson participated in the Full Circle Theater Company's return engagement of "Theater: A Sacred Passage." Lein Walseth and Johnson are two writers of this original performance piece, devised by the core artists of Full Circle from their personal journeys into theater. Their stories embody the challenges and transformational experiences they have had in becoming theater artists and how their lives and work reflect the changes in the theater community during the past two decades. The piece incorporates acting, storytelling, choreography, and music. Bachman was production coordinator, stage manager, and sound designer. Rodriguez served as set and technical director and lighting designer. Johnson was dramaturge and assistant director.
2001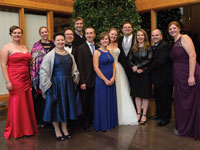 Sara
h (Grans) Peterka '01 
married Erik Peterka on December 12. Several Auggies were at the celebration including:
Carrie Lind '01, Skylar Hanson '01, 
Laura Hahn '02, Erica '01
and
Jason '01 Bryan-Wegner, Ben Hoogland '00, Larye '98
and
Melissa (Moyle) Pohlman '00, Lenise Butler '01,
and
Birgitte Simpson '13.
2003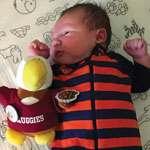 Megan and Jay Howard '03 welcomed their son, Elias John, on April 28.
2005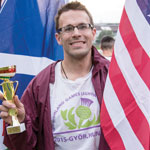 Jon Dahlin '05 participated in track and field at Augsburg, and he set a national record in the hammer throw that still stands. He went on to compete nationally and internationally in Highland games. He competed in states including California, Florida, and Texas, and he also competed in Iceland. He traveled to Gyor, Hungary, as part of Team USA for the 2015 World Highland Games Championship where he squared off against 15 athletes from around the world. He was pleased to record one of his best performances ever in caber (tossing a 175-pound wooden beam), and finished in seventh place. Dahlin lives in Minnetonka, Minnesota, and works as a software developer at Barr Engineering, focusing primarily on creating web applications. He also is a sports photographer who covers NFL games. Read "Throwing Weight Around".
Jenni Fisher '05 and Jade Boettcher '15 MAE were united in marriage on January 20 in Punta Cana, Dominican Republic. Boettcher received his Master of Arts in Education from Augsburg and is a special education teacher at John Marshall High School in Rochester, Minnesota. Fisher received her bachelor's from Augsburg and is a clinic assistant at Planned Parenthood
in Rochester.
Brandon Green '05 is a new managing partner at MG Resources. Before joining the company, Green spent nearly 18 years with Griffiths Corporation.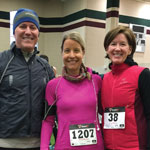 When 
Claire Pettry '05
moved to Ohio in the fall of 2015, her Augsburg College connection played a key role in helping her form friendships in her new locale. She met
Chris Ascher '81
and wife, Susan, and the three became fast friends who completed a 5K run on Thanksgiving.
2007
James Lekatz '07 wrote the music for "The Snow Queen," which was presented at Stages Theatre in Hopkins, Minnesota, in March. This summer, Lekatz worked with a group of students with autism on a production of "The BFG" as part of a program called CAST, Creative Accepting Sensory-friendly Theatre. He will be assistant director on a production called "Twinkle Twinkle," as part of Stages Theatre Company's theater for the very young, and he will compose Stages' next dance/ballet piece, "The Velveteen Rabbit," to be performed next spring.
2008
Andrew Webb '08 volunteers his time to assist local and global communities as they recover from natural disasters and tragedies. He encourages others through a letter-writing campaign and invites groups, such as area high schools, to join him in his dedication to this mission.
2009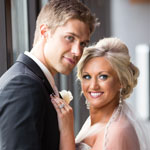 Benj
amin Austin '09
and
Michelle (Anderson) Austin '
1
1
were married December 19 in St. Paul. They met at Augsburg during her sophomore year and his senior year.
2010
Jennifer (Mathwig) Ortloff '10 became joint owner of the public accounting firm of Peterson Juergensen Hemerick & Co. in Hutchinson, Minnesota, after five years with the firm. Prior to becoming an owner and before earning an accounting degree at Augsburg, she worked on the administrative side of the company. Ortloff is a native of Brownton, Minnesota, and worked for the city of Brownton while completing her degree.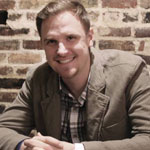 Mike 
Polis '10
has started Backboard Media, based in Northeast Minneapolis. Check it out at backboardgroup.com.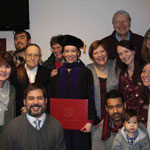 Schu
yler (Dunhaupt) Tilson '10
graduated from Mitchell Hamline School of Law in St. Paul in January with a focus in Indian law. She recently passed the Minnesota bar and became a staff attorney for the Ho-Chunk Nation Trial Court. She holds undergraduate degrees from Augsburg in history and American Indian studies.
2011
Patrick Siegel '11 is the proud owner of Robusto & Briar cigar store and lounge in Lakewood, Ohio. The establishment is made for all who appreciate a fine cigar and conversation-worthy décor. He got hooked on the cigar business when, as a student at Augsburg, he was hired by the Golden Leaf shop, where he bought his cigars. He and wife, Nicole, who grew up in Rocky River, Ohio, decided to settle in Lakewood. Robusto & Briar specializes in hand-rolled products that are kept in a 15-by-30 foot humidor. The shop offers about 400 types of cigars and about 50 kinds of tobacco.
2012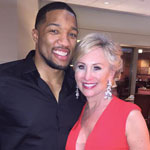 Mune
er Al-Hameed '12
won the Dancing with the Twin Cities Celebrities Charity Ball in February. Augsburg alumna
Carla Beaurline '91
was a judge this year and a 2015 Dancing with the Twin Cities celebrity dancer.
The Minnesota Women's Press published an article on Interfaith Youth Connection, a program for high school and college-age youth that promotes interfaith understanding and service. The article includes comments from Fardosa Hassan '12, Muslim student program associate at Augsburg College and program coordinator of Interfaith Youth Connection. By holding regular conversations and yearly service events, the group seeks to give youth "a way to be proud of who they are in whatever faith background they [believe], while reducing prejudice and misconception," Hassan said. "In the midst of what is going on today, this is something we need."
Patrick Sayler '12 is the new general manager of Co-op Natural Foods in Sioux Falls, South Dakota. Before returning to Sioux Falls three years ago, he spent 16 years in the Minneapolis area managing cafes and retail shops. As the general manager of Co-op Natural Foods, he will oversee an established business that employs approximately 20 people and does more than $2 million a year. He is completing work on a degree in business management/marketing and project management at the University of Sioux Falls.
2013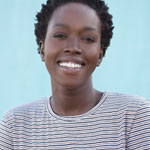 Kuot
h Wiel '13
co-founded the NyaEden Foundation, a nonprofit that aims to provide basic survival necessities to disadvantaged women and children throughout Africa. She is an actress, model, and humanitarian whose debut film role was in "The Good Lie," a drama starring Reese Witherspoon that tells the story of a group of Sudanese refugees who are offered shelter in the United States. Wiel was born to a Sudanese mother and father in an Ethiopian refugee camp following her parents' escape from war-torn Sudan. As a young adult, Wiel moved to Minneapolis to attend Augsburg and study social psychology. Visit nyaedenfoundation.org to learn more about the organization's work to foster girls' and women's safety, empowerment, independence, dignity, self-esteem, and self-respect.
2014
Allison Zank '14 has been named a National Science Foundation Graduate Research Fellow for 2016-17. Zank will receive a $34,000 annual stipend and $12,000 cost-of-education allowance to assist her in achieving a research-based graduate degree. An NSF GRFP indicates to graduate schools that a student is a top undergraduate scientist in the nation. Zank conducted summer research on biofilms with Augsburg Associate Professor Jennifer Bankers-Fulbright as well as at the University of Minnesota's Dental School. Zank also has spent time conducting research in industry. At Augsburg, she was named an URGO Scholar, McNair Scholar, AugSTEM Scholar, and Goldwater Scholar. She plans to pursue a master's degree in clinical microbiology at the University of Wisconsin-La Crosse this fall.
2015
Jordan Holm '15 competed in the 2016 Olympic trials in the 85-kilogram weight class for Greco-Roman wrestling at Carver-Hawkeye Arena in Iowa City, Iowa, on
April 6. Holm was one of three athletes automatically earning the No. 1 ranking. He graduated from Augsburg with a business degree in marketing.
GRADUATE PROGRAMS
Entrepreneurial leader recognized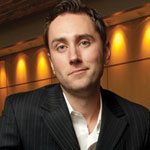 Nic Thomley '06 MBA was named to the 2016 Class of Henry Crown Fellows and the Aspen Global Leadership Network at the Aspen Institute. This growing network unites a worldwide community of entrepreneurial leaders from business, government, and the nonprofit sector who share a commitment to enlightened leadership and to using their creativity, energy, and resources to tackle the foremost societal challenges of our time. Thomley is an accomplished entrepreneur in the human services industry and the founder of companies that provide an array of services to persons with disabilities and senior citizens. Thomley is the founder and CEO of Morning Star Financial Services and the founder and chairman of Summit Fiscal Agency and Pinnacle Services, Minneapolis. Thomley was named a 2015 Ernst & Young Entrepreneur of the Year Finalist and, in 2006, was named to Inc. Magazine's "30 Under 30, America's Coolest Young Entrepreneurs" list and to the Minneapolis/St. Paul Business Journal's "40 Under 40" list. In 2010, Thomley was presented with Augsburg's First Decade Award, which honors graduates of the past 10 years who have made significant progress in their professional achievements and contributions to the community.
---
Evan Berg '10 MBA was hired as assistant vice president and loan officer at the Janesville State Bank in Janesville, Minnesota. He has a bachelor's degree in economics/business administration from Winona State University and an MBA from Augsburg, as well as eight years of experience in credit analysis and lending with Farm Credit and several banks.
Katie Clark '10 MAN, '14 DNP presented at a breakout session for Fairview Health Services' Somali Cultural Health Day in April. Her topic was "Critical decision making and chronic illness." Clark connected her previous bedside nursing experience with her current experience working with Somali community members at the Health Commons in the Cedar-Riverside neighborhood. Her focus was to teach health care providers to deliver culturally congruent care to marginalized populations. She concentrated her efforts on reducing the role of stereotypes and assumptions in the patient-provider relationship.