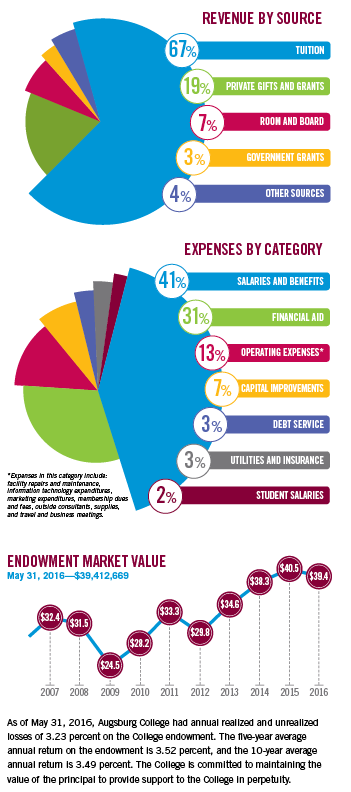 To the people who understand that together we can build and shape a campus, a community, and the world for lifetimes to come:
Thank you.
To the people who are hard-working, inspired, and trying to make a difference and impact the future locally and internationally:
Thank you.
To the 4,965 individuals who gave $17,689,103 for multiple programs, projects, and funds:
Thank you.
To the community who gave $1,551,262 to the Augsburg Fund:
Thank you.
Thank you for making this community a place where we are developing informed citizens, thoughtful stewards, critical thinkers, and responsible leaders.
Whether you were a student 50 or five years ago or are a friend of Augsburg College, Auggies like you are what keep an Augsburg education sustainable, faithful, and relevant long into the future.
Thank you.
---
2015-16 Scholarship Awardees
Alison Ranum '17
Roy and Eleanor Krohn Scholarship
Hometown: Minneapolis
Studying: Biology and Exercise Science
With thanks: "College is an expensive investment, and without the donors who have been so kind to help me along the way, attending Augsburg College would not be an option for me. Thank you so much."
Nazih Safi '17
Beverly Durkee Mathematics Scholarship
Hometown: Eden Prairie, Minnesota
Studying: Mathematics and Management Information Systems
With thanks: "Thank you for your continuous support of student learning. It feels good to know that I go to a college where the alumni really care about furthering their alma mater."
Mike Shaw '17
Professor Jeanne Boeh and Mr. Bernhard Fleming Economics Scholarship
Hometown: Minneapolis
Studying: Business Administration and Economics
Augsburg College's influence: "Augsburg has pushed me to do my absolute best at school and forced me to think how I can use the skills I am developing to help my community."