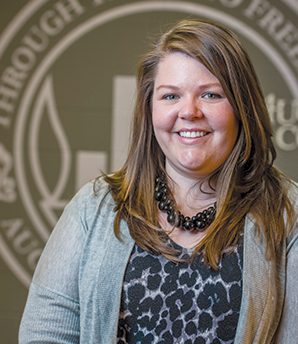 It's simple math: Fewer people are entering the teaching profession, more are leaving it, and many educators lack the qualifications required to teach Minnesota's increasingly diverse student body. These factors have prompted teacher preparation programs—including those at Augsburg—to adapt in support of more inclusive, flexible learning environments that accommodate a spectrum of needs and abilities.
As the director of education programs at Augsburg's Rochester location, Kaycee Rogers is working alongside colleagues and legislators to better support and retain teachers and to inspire a more diverse workforce. She is driven to ensure the next generation of Minnesotans experience a meaningful education through hands-on, relevant learning.
---
Q: How does educating, training, and employing K-12 teachers with specialty backgrounds improve our schools?
A: The demographics of our student population have changed given the influx of new populations into our welcoming state and education's shift to incorporate students with special needs into the general classroom. Because of this, teachers with specialty licenses are in demand, and these positions are often tough to fill. Augsburg is leading the charge to offer broader licensures, which prepare teachers to succeed in today's classrooms and qualify them for a wide range of teaching positions. Exposure to more teaching strategies and more specializations helps teacher candidates adapt and innovate so they can offer students multiple access points for understanding.
Q: What's an example of an innovative teaching strategy?
A: Students learn best when they're engaged in experiences that matter to them. We've been incorporating real-world, student-led experiences into the classroom, and the results are impressive. Augsburg teacher candidates, for instance, are helping fourth- and fifth-graders write grants, speak to community groups, navigate teamwork, and participate in democracy. It's been amazing to watch our teachers transition to more of a coaching role, while students take the lead to apply classroom learning to issues and situations of meaning to them.
Q: How do teachers recognize students' home cultures and diverse experiences?
A: Although "English as a Second Language" is a widely used term, we say, "English learners," because it's more accurate given that some students learn English as a third or fourth language. We also celebrate home culture and language rather than asking students to check their heritage at the door. In special education, we try to be more inclusive. It used to be that educators relied on what was called a medical model of diagnosis and treatment. Today, we recognize that our role isn't as much about changing someone as it is about using an approach that welcomes learners of different styles, that encourages support networks to address, adapt to, and respond to each young person. We seek to accept, listen, and innovate as we help students gain as much as possible to prepare them for a fulfilling life.
Both approaches fall under an umbrella of universal design that can be applied to all students, regardless of ability. If our goal is understanding, then we must create multiple access points for students. We urge teacher candidates to get to know students, their families, and the community to appreciate the backgrounds coming together in each classroom.
Q: How do we inspire a workforce that is more reflective of diverse classrooms? 
A: It's well documented that students retain more information and have a positive view of education when they relate to teachers. We want to reach out to people who look like our students and come from the same backgrounds, particularly those already working as teacher aides or in other supporting roles. Growing teachers from within each community's diverse population will beget more teachers of color and inspire some to remain in their community to make a lasting difference.