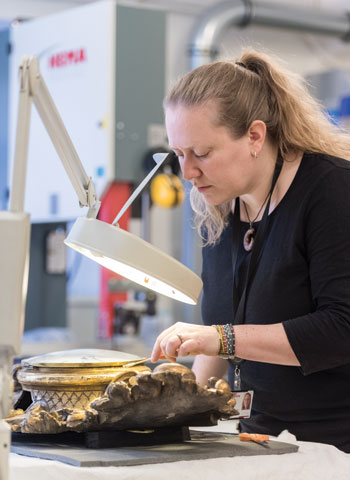 "As you can see, I'm not in my office," says Juliane Derry '00 answering a video call and gazing toward the cell phone resting in her outstretched palm. "It's kind of a little crisis."
Behind her, a warehouse complex comes into focus. It looks tidy—for the most part—but there's chaos emerging in what otherwise would be a meticulously organized space.
Derry is standing in one of the storage facilities for Norway's Nasjonalmuseet, the National Museum of Art, Architecture and Design, and she is responding to an immediate, all-hands-on-deck plea to mitigate an unnerving discovery in the archive: water.
"Oxygen, light, and variations in humidity are the things that cause damage," Derry said, hours later, offering a primer on the fundamental culprits in the degradation of historical materials. As a conservator for the national museum in Oslo, she plays a multifaceted role in the institution's efforts to hold, preserve, exhibit, and promote public knowledge about Norway's most extensive collections.
"There are so many different materials in our collection that we have textile, paintings, paper, and book conservators," said Derry, who is an objects conservator specializing in furniture, frames, and gilded surfaces. She has studied restoration on three continents and has become an expert in both preserving national treasures and making new creations shine. Derry is someone who excels at finding connections between seemingly disparate areas. Her conservation work blends science with artistry, research with intuition, and the practical with the theoretical.
Derry's personal life has been filled with complementary relationships as well. She was born in Norway, and she lived there until age 15 when she, her sister, and her American mother moved from the tiny alpine town of Ål to the densely populated Twin Cities lying on the edge of Minnesota's prairie. Later, as an Augsburg student, she focused on women's studies, international relations, religion, and studio arts.
"I took classes based on what interested me," Derry said, shrugging her shoulders. "When you get out into the real world and meet new people you begin to realize that [some of them] followed a very narrow path. I'm not looking down on that in any way, but I appreciate the fact that I was able to experience so many different things."
As her former faculty advisor, History Professor and Director of General Education Jacqueline deVries acknowledges that Derry is the type of person who thrives in interdisciplinary programs like women's studies. Now known as "gender, sexuality, and women's studies," the major includes courses in biology, English, history, political science, sociology, and other disciplines. And it seems Derry's inclination toward diverse opportunities only increases with time.
"Juliane's path is fantastic. She totally wandered," said deVries, who now counts Derry among her friends. "I think she'd laugh that I said that, but along the way she discovered a true passion."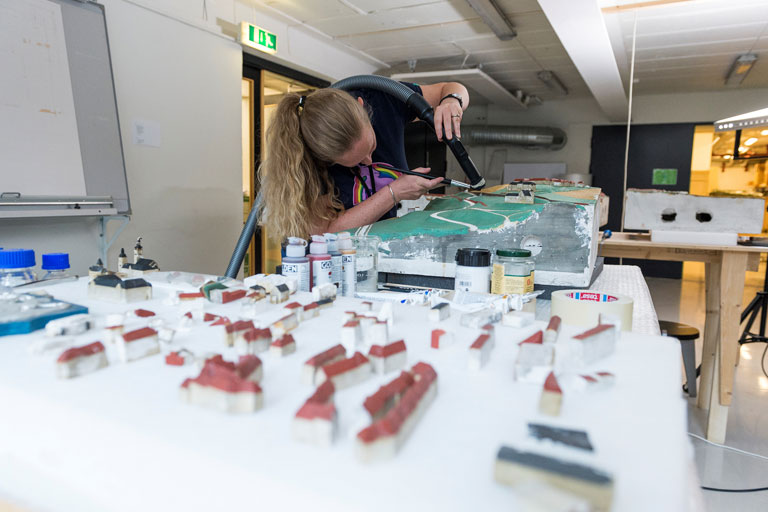 Derry's career in restoration and conservation began because misdirected mail literally came across her desk. Shortly after graduating from Augsburg, Derry worked as an assistant to buyers at Dayton's, Minneapolis' storied hometown department store chain. Even though she didn't support staff in the furniture division, she received heaps of catalogs for that area.
Eventually, a thoughtful colleague noticed her growing interest in woodworking and encouraged her to pursue her calling. After some networking and introspection, Derry signed up for a wood finishing program at a technical college—an experience that ultimately led to her launching a small business, obtaining an advanced degree, and developing industry contacts around the world.
One of those connections is Don Williams, an author, educator, scholar, and furniture conservator who retired after serving the Smithsonian Institution for 29 years. Williams was a guest lecturer who instructed Derry during her Minnesota-based finishing program, and he became a mentor as she took her education and career to new levels.
Williams has taught hundreds of students, and he's noticed that those who succeed often have similar predispositions. "How many people do you know who are both scientists and artists?" he asked. "That's what we are. If you are not consumed by creativity, this is going to be a miserable path for you. People need not only creativity but also curiosity."
For Derry, an eagerness to experiment and to learn has triggered some of her most defining life events.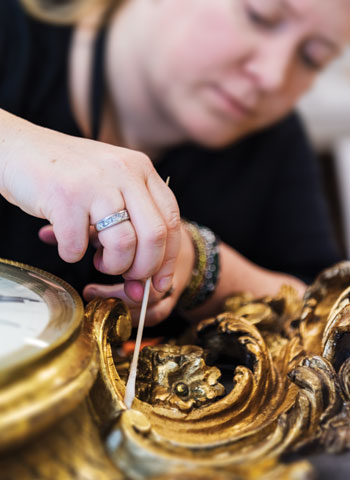 After working a handful of day jobs and operating an independent business in the U.S. for three years, Derry enrolled in an immersive, full-time restoration program near Florence, Italy. There she gained studio experience and new skill sets, including the ability to speak Italian through a crash course lasting a single month. After completing the restoration program, Derry moved with her wife, Jody Scholz '97, to Norway. Derry was armed with a portfolio of recent work and ambition to relaunch her business in the Land of the Midnight Sun.
"I ended up making a CD full of pictures of various restoration projects, and I made the rounds in town," she said. "I looked up people in the yellow pages and then handed out my pictures. In the beginning I worked a little bit at a frame shop, and then I got a job in a gallery where I restored frames."
During the years since, Derry's workload has grown to match her expertise, and sometimes her expertise has grown due to the requirements of her work.
She earned a master's degree at the University of Oslo's Institute of Archeology, Conservation, and History by completing a project-based thesis that examined shellac, a sealant created using a resin secreted by insects. For this project, Derry conducted fieldwork in the rural Jharkhand region of India where villagers harvest stick lac—the key ingredient that becomes shellac and its by-products—and she analyzed the chemical characteristics of several samples at the Smithsonian's Museum Conservation Institute where Williams served as her internship sponsor.
"Investigative problem-solving" is one of the aspects Derry said she most enjoys about her field, and her liberal arts experience at Augsburg informs the way she approaches her assignments. She uses traditional techniques and materials in her conservation projects whenever possible, and her ability to think critically is paramount.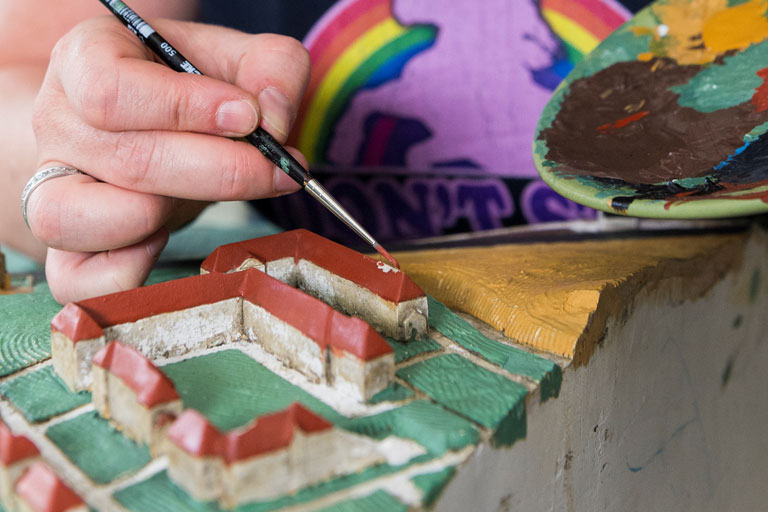 While employed at a furniture restoration company, she was tasked with repairing beloved pieces used by the Oscarshall Summer Palace, the Office of the Prime Minister, and private clients. She also has served Fortidsminneforeningen, a nonprofit that preserves and protects monuments, including 40 of the stave churches located throughout Norway.
"Ashes to ashes and dust to dust is not only a homily, it is an inexorable law of the universe," said Williams, describing the vital role individuals like Derry play in preserving cultural heritage for future generations. "Everything is going back to dust. As conservators, it is our job—to the extent that is rational—to slow that process down and concurrently enjoy and extract the most utility from an artifact on its path."
Today Derry's workdays primarily are devoted to making internationally important materials accessible to the general public. At the national museum, she has completed assignments that range from applying gold leaf on the frames of masterworks to cleaning a plaster-of-Paris city model measuring more than 100 square feet. And still, her current undertaking is the largest one yet.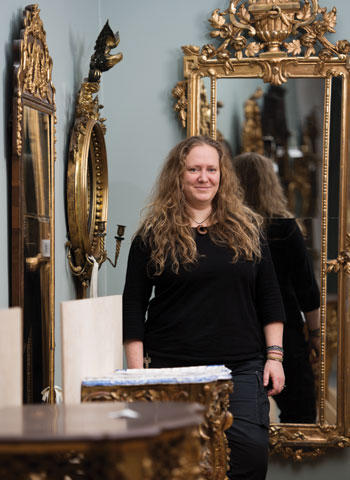 The Norwegian government is building a joint "all-arts" museum, which is slated to open in Oslo in 2020. Intended to be a dynamic arena for people to interact with the visual arts, the space requires new exhibits so curators and conservators are working hand-in-hand to select and prepare pieces for display. Derry is in the midst of locating, evaluating, cataloguing, and potentially repairing 400 pieces of furniture for the museum.
It's a process that requires passion and persistence—two words that also perfectly describe the manner in which Derry has shaped her career. She's prepared to address new challenges if issues arise in a workshop, at a laboratory bench, or during the process of managing complex projects.
Even in a soggy situation at a storage venue, Derry sees the annoyance of rewrapping objects impacted by a minor cooling system leak as an opportunity to formulate a plan for the future should staff ever need to address a true disaster.
"She can pursue something with intelligence and diligence and still with a smile on her face," Williams said. "That's an unusual gift."
---
[Top image]: Juliane Derry '00 works on an artifact from Norway's national collection. As an objects conservator, she studies and preserves historical materials.  
Photos courtesy of Annar Bjørgli