We see you!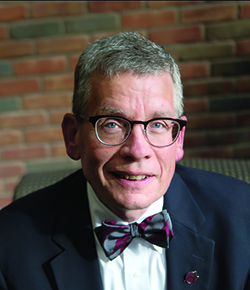 This summer, Assistant Professor Joaquin Muñoz from our education department greeted our incoming students with a powerful message. He said that every one of them deserved an adult who loved them unconditionally. He then looked out at our remarkable students and told them that he loved them. He said, "I see you," and "I will do all I can to ensure that you are successful at Augsburg and beyond."
Joaquin was speaking to students of color and indigenous students in particular, but this is our promise to all our students: "We see you" is at the center of Augsburg's commitment to meet students where they are and walk alongside them as they pursue their educational goals. What does it mean to say that "we see you"? It means that your life experience, your vocational journey, your path to Augsburg is important to us and will be taken seriously as we work together to ensure your success.
It seems especially fitting as we launch our 150th anniversary—our sesquicentennial—that we renew our promise to meet our students where they are, to see them in all of their astonishing and diverse life experiences, and to accompany them as they pursue an Augsburg education.
Our promise to see our students is evident in all of our celebrations of our 150th anniversary. For example, the remarkable "Each, Together" art project—part of an international initiative known as "Inside Out"—is featured in this issue of Augsburg Now (see "Face value"). More than 1,200 photographs are displayed on buildings across campus: images of current students, faculty, staff, and alumni alongside those of historic figures like Bernhard Christensen '22, Augsburg's fifth president, who looks at me each day as I pull into my campus parking spot! Every time I look at those photographs, I think about how they reflect our commitment to seeing each other, to recognizing that our various journeys to Augsburg and beyond are part of a remarkable narrative that has unfolded over the past 150 years.
Since our founding in 1869 and through the decades that followed, our institution has grown and changed, yet our commitment to our foundational promise has remained the same. We see you, we love you, and together we will fulfill our abiding promise that Augsburg is "small to our students and big for the world."
Faithfully yours,
Paul C. Pribbenow, President