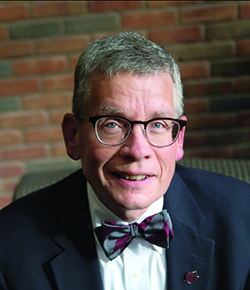 As we conclude our yearlong celebration of Augsburg's 150th anniversary, in the midst of these historic times, I have been reflecting on some of the mottos and slogans Augsburg has used throughout its history. From our founding scriptural motto—"And the Word became flesh and lived among us" (John 1:14)—to the familiar "Education for service," to the more recent "We believe we are called to serve our neighbor," to the iconic phrase first used as part of Augsburg's 100th anniversary and now featured on our university seal, "Through truth to freedom," each phrase points to abiding values that are at the heart of the education Augsburg offers to its students.
I am particularly struck by the claim made in that centennial motto, and I wonder what it might mean to explore how "Through truth to freedom" shapes our teaching and learning community in the midst of these pandemic times.
In a recent presentation, Professor of Religion Mary Lowe offered a provocative challenge when she asked us what it might mean to educate our students for freedom. What a countercultural notion! Educated for freedom from ignorance, from oppression, from division and hatred and violence. Educated for freedom to make the world more fair and just and healthy, to be good neighbors, to take care of creation. Educated for freedom for the sake of the world, for the good of others, for the promise of wonder and creativity.
At Augsburg, the possibility of this education for freedom is grounded in claims of truth. Above all, a theological claim of the truth of the gospel of Jesus Christ—stated so powerfully in that founding scriptural motto from the first chapter of John's gospel—a truth that makes all things possible in our lives and work in the world. At the same time, it's the truth we find in our commitment to a liberal arts education—to the belief in scientific knowledge, in social analysis, in artistic expression, in cultural wisdom. And finally, it's the truth we find in the lived experiences of our students and the communities from which they come, truths that reside in rituals and traditions and practices that invite us into worlds rich in knowledge and wonder.
"Through truth to freedom" strikes me as a compelling response to this moment when we find ourselves living at the intersection of three pandemics. The COVID-19 pandemic has disrupted all aspects of how we live and work, and it has pointedly illustrated the tension between public health and economic well-being. Following in the wake of that pandemic, an economic pandemic threatens our social fabric with massive unemployment and business closures worldwide. And, most recently, the racial inequities exacerbated by the senseless murder of George Floyd by Minneapolis police officers—along with countless Black, Indigenous, and other people of color who've experienced similar racism and violence—have created a third pandemic that threatens to tear our country apart. Surely this uncharted intersection of crises presents unique challenges for all of us as citizens, trying to imagine how we will navigate to some as yet unknown future.
The question we will ask at Augsburg—a question at the heart of our academic mission and our commitment to social justice—is, "Where is the truth in the midst of these pandemics?"
What is the truth about keeping each other healthy in the face of a novel coronavirus? What is the truth in an economy that, more and more, deepens remarkable inequities What is the truth in centuries of systemic racism and oppression? And the truths we will find, always evolving and emerging and transforming, will free us for the work we are called to do as "informed citizens, thoughtful stewards, critical thinkers, and responsible leaders"—Augsburg's mission!
Let us go forward together into the next 150 years of Augsburg's life recommitted to education guided by the belief that through truth there is indeed freedom. I can only wonder what such a countercultural belief will mean for stories yet to be told.
Stay strong, safe, and well.
Faithfully yours,
Paul C. Pribbenow, President