On Monday, May 3, Augsburg University celebrated commencement virtually with the release of a prerecorded video ceremony. The event included remarks from several presenters and personalized slides for graduates displaying photos and messages that the students submitted. The viewers posted comments to the videostream as they watched the event, and students took to social media to share their graduation posts using the hashtag #AuggieGrad.
On Tuesday, June 8, Augsburg held an in-person commencement for the classes of 2020 and 2021 at U.S. Bank Stadium in Minneapolis. Because the 2020 commencement ceremony was virtual in alignment with public health guidelines designed to prevent the spread of COVID-19, many graduates from the Class of 2020 opted to participate in the 2021 in-person ceremony, where attendees were asked to wear face masks and stay physically distanced from guests of different households.
Visit YouTube.com/AugsburgU to find video recordings of Augsburg's virtual and in-person events.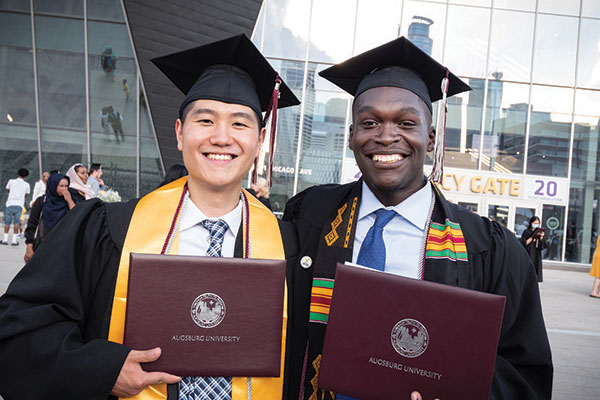 Did you know?
The traditional undergraduate Class of 2021 is Augsburg's most diverse graduating class with 45.6% Indigenous students and students of color, an increase of more than 20% over the past three years.