By Betsey Norgard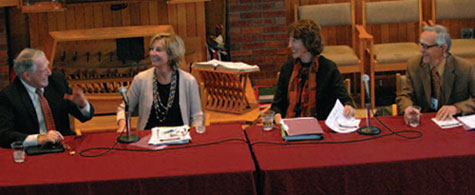 On March 23, 2010, President Obama signed into law the Patient Protection and Affordable Care Act. It's complex, difficult- to-understand legislation and is the product of an extremely contentious political process.
On October 15, at its fifth public policy forum, Augsburg's Sabo Center for Citizenship and Learning hosted a forum to decode and discuss the challenges and opportunities this legislation presents for Minnesota and the nation—that is, how the current healthcare system will change. The symposium was moderated by retired U.S. Rep. Martin Sabo and presented speakers who are leaders in the healthcare field.
Donna Zimmerman, senior vice president of government and community relations at HealthPartners in Minneapolis, addressed the overall scope of the law and focused on the impact of provisions concerning changes to insurance coverage.
"It is a major task to think about how to explain this major piece of legacy legislation our Congress has passed," Zimmerman said. "I'll try to demystify this big bill, and focus on what's important for us in Minnesota."
Her presentation explained various provisions of the act that have already taken effect or are being phased in shortly; for example, extension of benefits to dependent children up to age 26, adding more preventive care without costsharing by consumers, and prohibition on insurance denial to children under age 19 for pre-existing conditions.
Dr. Sanne Magnan, commissioner of the Minnesota Department of Health, spoke about changes to health care itself and the interface with Vision Minnesota, Minnesota's reform passed in 2008. Her message was that the federal reforms will not have as radical an effect in Minnesota as in some states because Minnesota's quality and delivery of health care are already consistently higher than in many states.
She spoke about how Minnesota is coordinating with federal initiatives to influence how health reform is implemented, "so that we can build on the innovative strategies Minnesota has been doing as well as learn from other states who have been doing health reform."
She compared provisions for reform in the new federal law with similar provisions in Vision Minnesota and showed how a number of them are already being implemented in this state.
Magnan also explained that much of the difficulty in enacting reform stems from how the current healthcare system was set up. The incentives and payments for health care are made to doctors and providers for treatment of illness, and not for promotion and maintenance of health. Payment is made for office visits, hospitalization, tests, procedures, and drugs, rather than for better management of chronic disease, prevention, and promotion of wellness.
Dr. Bruce Amundson '60, president of Community Health Innovators, Inc. and assistant professor at the University of Washington School of Medicine, spoke about his longtime work to seek reform in the healthcare delivery system to provide everyone with easy access to a team of healthcare professionals who can provide comprehensive care at lower costs.
Amundson offered a vision of the optimal healthcare model (see next page) that focuses on a team approach to ongoing, primary care in clinics, which includes clinical care as well as services in other areas that affect health. These clinics or "medical homes" must then be part of, or connected to, a system that includes specialty-care and hospital and emergency services.
Sabo Center Public Policy Symposium 2010 Healthcare Reform:
What Will It Mean for You (and the Nation)?
October 15, 2010
Panel Participants:
DONNA ZIMMERMAN, Senior Vice President of Government and Community Relations, HealthPartners
DR. SANNE MAGNAN, Commissioner, Minnesota Department of Health
DR. BRUCE AMUNDSON '60, President, Community Health Innovations, Inc., and Assistant Professor, University of Washington School of Medicine
MARTIN SABO '59, Moderator; U.S. House of Representatives, 1978-2006
What is ideal healthcare delivery?
The recent health reform legislation primarily focuses on helping more people get health insurance and on addressing some insurance injustices. It does not systematically address delivery system reform—how you receive health care—but elements of the act do support ongoing reform efforts. To understand this, you must have a clearer picture of what clinical and healthcare leaders see as a "reformed delivery system" and what we have been working towards—for years.
Within the past few years a growing agreement has emerged on what an optimal delivery system should look like, both to be able to provide excellent and comprehensive care and to reduce costs. These are the key elements:
First, your health care must be anchored by primary care clinicians—physicians (family practice, general internal medicine, pediatricians), nurse practitioners, and physician assistants. This ensures that you have a personal ongoing relationship with a clinician who is the "general contractor" for your health issues and who is your trusted partner.
Second, you should be part of a clinic or system that provides a "medical home" with your primary clinician. Your medical home must serve as the first stop for ANY health issues that arise, short of critical emergencies.
Further, your medical home should have:
An electronic health record to ensure immediate access to your history for all who treat you wherever they are located
More convenient access to your clinicians— same-day appointments, expanded hours, e-mail to your clinicians
Management of all referrals to specialists and other services you may need, ensuring coordination and avoiding duplication
Systematic management of common chronic diseases
Case management for people with complex and/or multiple health issues including monitoring of prescription drugs
Healthcare teams to expand clinical competency and
The emergence of primary care teams is one of the most important developments in recent years. I would describe the "optimal primary care team" as comprised of:
Primary care clinicians (physicians, nurse practitioners, physician assistants)
Mental health clinician
Social worker with family therapy skills
Nurse case manager for patients with complex conditions
Chronic disease care nurse
Patient educator
Pharmacist
Physical therapist or massage therapist
Research has shown that with this range of skills a clinic or medical home can competently handle 80% or more of the health problems that it receives. It can care for the whole person and meet total needs. This is a radical change, but examples of this model now exist across the country.
The third component is that every clinic or medical home must be part of an organized system of care that includes most specialty physicians, hospital and ER services, and other important services. If not within the same organization, at least there must be formal ties and relationships between the medical home and these other elements of a comprehensive healthcare system.
Because our human condition is complex, people are affected by physical issues, mental health problems, family dysfunction, substance abuse, environmental exposures— and often a combination or all of the above. Clinical care is, therefore, also very complex if it is going to be relevant to the person's needs and holistic in its aims. The combination of knowledge and skills represented in the optimal team described above brings the healthcare delivery system closer in alignment with human needs, with the foundation being "relationship-based" (versus "diseaseoriented") care.
The reform legislation recognizes the work by clinicians and leaders in defining what we seek as health reform goals. While it does not fundamentally change the current healthcare delivery system, it supports clinician- led reform by:
Recognizing the role of primary care clinicians and increasing financial support for training them
Providing bonus payments for care management of Medicare and Medicaid enrollees when needed
Providing financial incentives for establishing organized systems of care
Expanding wellness and preventive coverage in insurance plans
Funding research on the clinical effectiveness of various treatments
Creating a Center of Innovation
The legislation is not radical. It builds on our current private insurance and delivery systems. It may not be able to address cost issues, but it does represent a huge step toward ensuring universal insurance coverage and a more effective delivery system. It also must be seen as a move to narrow the gap between healthcare "haves" and "have nots."
While there's an immense amount of work ahead, it's critical to understand that for clinicians and most healthcare leaders, there is no turning back. The whiff of something better, a humanizing system, is in the air and a national reform process is underway. I could not be more hopeful.
Dr. Bruce Amundson '60 is president of Community Health Innovations, Inc. in Shoreline, Wash.