Greg Holker knows that his class ring from Gustavus Adolphus College is in a box at his house. And he's pretty sure he knows where his diploma is.
But that is it. Those are the only tangible things the Augsburg men's soccer coach has left from his time both as a player and as an assistant coach in St. Peter, Minn.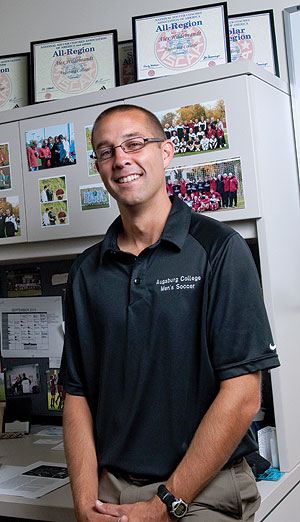 Holker openly admits he didn't think that was going to be the case when he took over the Auggie program in 2004. His goal was pretty simple: make Augsburg respectable, win some games, and put himself in position to become the next Gustavus coach.
"I had a five-year plan," he says. "I thought I'd be here three years and I'd be out." But something happened along the way to mess up those plans—Holker became an Auggie.
"The institution has evolved significantly over the six years I've been here and I've changed as well," Holker says. "I started to embrace the institution and our work."
He also had success. In 2006 Holker led Augsburg's men's soccer team to a 13-victory season and a first-ever Minnesota Intercollegiate Athletic Conference (MIAC) playoff berth. In 2008 Augsburg reached the NCAA tournament for the first time in school history and reached the Sweet 16 before losing to Loras College in two overtimes.
This past spring, however, brought out the truest example that Holker had genuinely become an Auggie. When the head soccer coach position at Gustavus opened, Holker was approached about the job and spent a day in St. Peter.
Before the search moved any farther along, however, Holker pulled out of consideration.
And this year, following a record-breaking season for men's soccer, Holker was named MIAC Coach of the Year, and sophomore Chad Gilmer was named MIAC Player of the Year. The team won the MIAC playoff championship and advanced to the national tournament for the second time. It won the first round, but lost to the University of Wisconsin-Whitewater in the second round.
"At the end of the day, this is where I want to be," Holker says. "I like being in the city and I like that there's a very true identity here. I think I'm 100% in love with what this institution does. Seven years ago, this was a job. Now, it's a part of me."
And now he's an Auggie.