BY CATHERINE REID DAY
"We know what a difference the generosity of others made for us. Truly, it was the acts of strangers, other Augsburg leaders, whose gifts provided foundational support for the College, before our times here. It's our turn."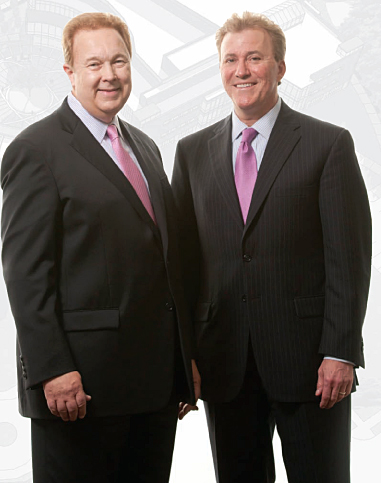 So said Wayne Jorgenson '71, as he and Christopher Ascher '81 met recently on campus to help plan a series of Alumni Leadership Summits for their classmates from the decades of the '70s and '80s.
"Those early gifts from alumni and friends of the College made it possible for each of us to experience a great Augsburg education," Ascher said. "We are convinced. Now is our time to make the investment and help open doors for others."
Both Jorgenson and Ascher know some things about good investments through their accomplishments in the field of finance. Jorgenson has applied his business degree from Augsburg, now serving as senior vice president of investments at UBS Financial Services in Bloomington, Minn. Ascher, a finance major with a psychology minor, also played on the Augsburg soccer team. Ascher now leads and manages the wealth management office for Morgan Stanley, also in Bloomington, Minn.
"We are convinced. Now is our time to make the investment and help open doors for other."
Both men chose to step up, inspired by the message of CSBR Campaign Chair Mike Good '71 to "Believe." By first making their own leadership gifts in support of the building, and then by chairing their respective Alumni Leadership Summits and $1 million class challenges, they are adding their enthusiasm and leadership to the cause. Their goal is to ensure the success of the effort to build a new Center for Science, Business, and Religion at the very heart of the Augsburg campus.
"We both see this building as the essential next step in the College's development. No other campus we know has created such an exciting intersection of disciplines—science, business, and religion—to serve students and forge a pathway to a better future for us all," Jorgenson said.
Watch for updates on the Alumni Leadership Summits in future alumni communications.