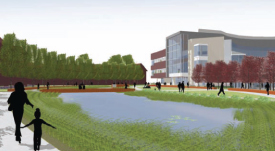 The Center for Science, Business, and Religion at Augsburg College will bring together the study of global business, advanced science and technology, and religion and the search for meaning into a first-of-its-kind education center.
The Center will house classrooms, labs, and key Augsburg initiatives, including programs that support our success in undergraduate research. It will enable Augsburg to accommodate a greater number and larger scope of year-round research projects across disciplines—the kind of long-term educational projects that help students gain 21st-century problem-solving skills.
The tremendous impact of these research programs is evidenced by the growing number of students who leverage the robust, hands-on skills they learned in their on-campus experiences to obtain off-campus research positions and continue to graduate programs. Augsburg students are sought after by institutions such as the Massachusetts Institute of Technology, the Mayo Clinic, the University of Maryland Robotics Center, and many other organizations. (See more examples in the Augsburg Now "Celebrating student success" section.)
We know that Augsburg's faculty-led research makes a profound difference in the educational experience of our students—and, through their work, will shape advancements in science, technology, and other fields across the globe. The Center for Science, Business, and Religion (CSBR) is a fitting manifestation of our commitment to the growth of this work.