By Jeff Shelman
There was a time not all that long ago when simply getting enough players to field a complete team was a challenge for the Augsburg women's golf program. As a result, the on-course performance of the Auggies wasn't where it might have been.
Johanna Frykmark (left) and Stef Zappa (right) have changed that. The two seniors have brought stability, seriousness, and increased levels of success to Augsburg's women's golf program. They have both been All-Minnesota Intercollegiate Athletic Conference (MIAC) selections, both have shown great improvement on the course, and both will graduate at the end of this semester after three-and-a-half years on campus.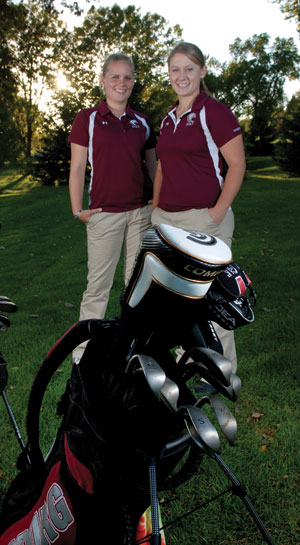 "Without them, our team wouldn't be anywhere near where we are now," coach Ted Vickerman says. "They've really changed the mentality to where we want to do our best. We're beating teams."
The two take pride in how the program has changed during their tenure. "Our first year, we were last in the conference, but we had fun doing it," Zappa says. "Everybody's improved. Both of us have had five or six stokes (average per round) of improvement."
At the MIAC championship meet—her final collegiate event—in early October, Zappa became the first Augsburg women's golfer to earn multiple All-MIAC honors, finishing seventh, the highest-ever finish for an Auggie at the MIAC championships.
Johanna Frykmark finished in 25th place and joins Zappa as the second of three Auggie women's golfers to record 25th-or-better finishes in three MIAC meets.
Both appreciate their time at Augsburg and the role golf has played in their Auggie experience. "My first year was pretty rough," Frykmark says. "I had a hard time fitting in and I missed home a lot. I've changed so much as a person since I came here. The golf team was a big part of that; they were my second family when I got here."
After completing her degree in international business and business management, Frykmark hopes to find a position with an international company that does business both in the U.S. and in
her native Sweden.
Zappa is on her way to becoming a teacher, spending this semester student-teaching first- and second-graders at Barton Open School in South Minneapolis. She's also helping to coach volleyball at Minneapolis South High School.
While that's a heavy load, Zappa wasn't going to walk away from the golf team. Zappa—who had a hole-in-one on her 20th birthday during a tournament at Carleton—didn't practice with the team as often this fall as she would have liked. Instead, she practiced in the evenings and remained one
of the team's top golfers—that is, on a team much more stable than before Zappa and Frykmark arrived on campus.
JEFF SHELMAN is the former director of media relations in the Marketing and Communication office.