By Bethany Bierman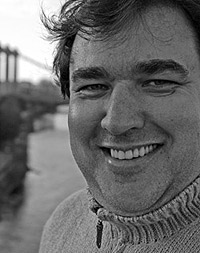 Auggie Mike Bodnarchek '85 built a career in music video production and has helped other Auggies get a start in LA.
The coffee shop in Christensen is nearly full, so we grab two empty stools by the computers in the back. Wes Ellenwood sits poised on the stool, looking relaxed in his blue jeans and vintage New York baseball cap, balancing his coffee between his hands.
"What makes our department unique is its three tracks," he explains. The former NYU professor specializes in documentary and 16mm film and was just last year given full-time status, making him the only full-time film faculty member.
He breezes through the description as if he's told it many times before. There's the production track (creating films and videos), the performance track (acting for the camera), and the theory and culture track (the analytical track). "And our faculty are not just faculty— they are professionals and experts in film."
Just then communication professor and director of the program Deb Redmond approaches with a young man. "I'm sorry, but may I interrupt?" she asks. "Matt, this is Wes Ellenwood, who teaches our production courses. Wes, Matt is looking at transferring to Augsburg to study film."
The professors exchange knowing glances. This is not the first time such an introduction has been made. In fact, the film department averages two visitors per week. For a program that officially finished its fourth year, numbers are exploding. While Augsburg has a strong history of graduating students who have excelled in film, it was only in 2004 that the major was added. It jumped from one graduate in 2006 to now nearly 40 students. Five new film majors transferred in this past semester.
"We're different from most of the metro college campuses," Ellenwood tells Matt and me, "because there is actual film being shot on this campus." He goes on to explain that because Augsburg students develop an understanding of film, video, television, and digital media, in addition to being grounded in the liberal arts, these graduates are better prepared than most to truly succeed in the industry.
A seed is planted
It was the early '80s, and every Friday English professor John Mitchell showed movies in his class. One student recalls nearly leaping out of his seat with excitement.
"He really opened up the gateway for me," says Michael Bodnarchek, the son of Ukrainian immigrants and a St. Paul Johnson High School graduate. He had come to Augsburg to study prelaw and to play soccer. "I got very involved with politics with my lifelong friend John Evans … and Franklin Tawha, but then started spending a lot of time with film."
Bodnarchek took a 16mm film course taught by a friend of Mitchell's during January term. "After that, I was completely hooked, and then it became an addiction." He took Julie Bolton's television class and Stan Turner's class in newswriting at St. Thomas. Jeroy Carlson found him an internship at KARE- 11, which turned into a job editing stories for the sunrise show.
But Bodnarchek's passion was music videos, and how they told a story in four minutes. Augsburg didn't have cable at the time, however, so with the rise of the MTV boom, he persuaded the College to invest in a satellite dish for the top of Christensen Center. He'd record videos and host a showing on Sunday nights during dinner, until they got too risqué and the administration shut him down.
Beyond the classroom, he made connections with several people, including Jimmy Jam, Steve Rifkin (editor of the Pirates of the Caribbean trilogy) and Darrell Brand (cameraman). During college, he directed videos for Twin Cities music sensation The Jets and spent a couple days as a production assistant on Purple Rain.
Following graduation, he worked at a law firm for a while but just wasn't satisfied. He drove to Hollywood in a yellow Dodge Charger, with about a thousand dollars in his pocket, moved in with a friend, and volunteered on an American Film Institute film. Through persistence and personal connections, he eventually started to get work. His first breakthroughs were as a production assistant on Lionel Ritchie's "Say You, Say Me" video and the film La Bamba, which led to work on Stand and Deliver.
"It snowballed from there." Within two years he was producing his own videos and commercials such as Michael Jordan's Gatorade ads, and within a decade was running the commercial/ music video department of A Band Apart with co-founders Quentin Tarantino and Lawrence Bender. While his Hollywood connections blossomed and his résumé grew, his Augsburg connections never died.
Breaking new ground
"Michael [Bodnarchek] wanted the film major here desperately," recalls Redmond. "He contacted us." Redmond and theatre professor Martha Johnson traveled to LA to spend time meeting with him about the idea. This became the impetus for the program.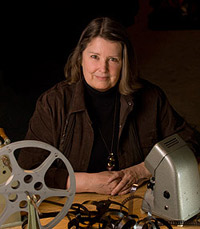 For more than a decade, communication studies professor Deb Redmond has worked with alumni to nurture the film courses that have grown Augsburg's film program.
Courses in film continued to find their way into the catalog, and when confirmation came from the dean's office, a film minor was established.
As more and more Augsburg graduates entered the world of film, momentum for the program continued to grow. President William Frame visited Hollywood to raise money for the film program, and Bodnarchek donated equipment and money for it.
Students like Adam Schindler '00 and Hanne Anderson '99 came to Augsburg before the major was established, but knowing that film was their passion.
Schindler took creative writing classes, looking to hone his storytelling ability, and ended up with a communication major and minors in English and film. "As I continued churning out scripts, taking broadcast production courses, film-related J-term courses, I was approached by a few students about the possibility of forming a film group." They applied for a grant through Student Senate, and, with the help of Redmond, put together the Augsburg Association of Student Filmmakers (AASF).
"We were pleasantly surprised when we had 30 or so students show up for our inaugural meeting," Schindler remembers.
"It was a very collaborative effort with all the members chipping in film ideas, cameras, and loads of time," says Anderson.
While he was still a student, Schindler had a chance to meet Bodnarchek through a contact in Augsburg's Alumni Office. Bodnarchek extended Schindler an invitation to intern if he ever decided to move to LA. Needless to say, Bodnarchek was the first person Schindler called when he made the decision to go west.
"I hired a lot of Auggies," Bodnarchek recalls. "I helped open doors for them because I knew how hard it was for me. I think every single one of them has gone on to greatness. I am very happy for and very proud of them."
A distinctive major emerges
"It took years to put [the major] together because we really wanted it to be interdisciplinary, and truly based in the liberal arts," says Redmond.
The application for approval of the major was submitted during the 2002-03 school year and was approved for fall of 2004. In the past year, Ellenwood has begun teaching full time, and additional courses have been added.
Today, first-year film students are not allowed to take production courses, but instead start with still photography and core academic courses. From there, they take courses in the history of cinema, criticism, and issues in contemporary cinema, which lead into documentary and acting courses. Students have the opportunity to take electives in areas such as graphic design, journalism, and art, and for their lab science requirement they may take Physics for the Fine Arts.
Robert Cowgill, who spent years as a dramaturg at the Guthrie and is past performer, owner, and manager of the Oak Street Cinema, teaches courses in analysis. Elise Marubbio, an award-winning author on the representation of Native Americans in film, teaches courses that cross-list between the American Indian studies and film programs.
"Our focus is on training students to recognize within a system like Hollywood that there are very particular narratives around groups of people," Marubbio says. "Our hope is that film students begin to realize that when they create a film and an image of someone, they need to be aware of the cultural implications."
Marubbio coordinates Augsburg's Native American Film Festival. "The combination of things that we're doing is unique to Augsburg."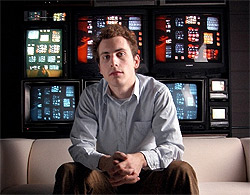 Augsburg's first "official" film grad, Trevor Tweeten '06 has won awards for his films and is now living and working in New York.
The program's first student to officially major in film was Trevor Tweeten '06. "The whole theory side at Augsburg was fantastic, between [John] Mitchell and [Robert] Cowgill," he says. "There's a practical side of it with Deb [Redmond] and Wes [Ellenwood], but also the heavy side of theory and history. I think there's a good balance … I feel really lucky to have gone to a liberal arts school and have a broader understanding of politics and life and literature and all that stuff."
Augsburg also brings in adjunct faculty who are experts in their field, such as Christina Lazaridi, a New York-based screenwriter whose first screenplay was nominated for an Emmy. She teaches screenwriting in the summer.
Beyond the classroom, the program encourages study abroad and internships. It is often past graduates who provide the internships for current students.
"We are growing our own," says Redmond. "When people come to Augsburg to study film, they are not committing themselves to four years, but for life … We're growing our own faculty, in essence."
"The thing that fits with the mission of the College is we're looking for people with a commitment to a message, particularly using the language of film to tell their stories," Redmond states.
One such example is a film by senior film major David Siegfried, who used still photographs with voiceover to tell the story of the teaching career of his grandfather, Augsburg anatomy and biology professor Erwin Mickelberg. In his film are photos of Siegfried's mother riding her bicycle in Murphy Park as a young child. (http://davidsiegfried.com/ mycampusfinal.html)
The current crop
"We're grounded now," says Ellenwood, pointing to the fact that there is now a common place for film students to hang out, a space shared by communication, film, and theatre students. Just through the hallway of faculty offices are the editing suites, then the film studio, and the "closet" they hope will soon become the screening room. "Loitering is happening on a regular basis. That's a good thing."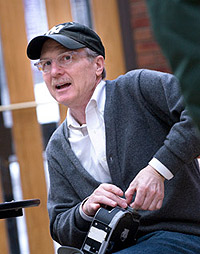 Film professor Wes Ellenwood, who specializes in documentary and 16mm film, connects students with film pros in the Twin Cities for hands-on experience.
Ellenwood attributes the increased interest in Augsburg's film program to the fact that it is deeper and broader than most programs. "Without any marketing, students are finding us. Word is getting out," he says. Students have come from as far as Argentina, and now India. "We need more faculty, space, and equipment to allow for the increasing number of students."
"Our hope is to grow donors," Redmond says. "It can start with supply items, like an extension cord, then volunteering to take interns, then, if they're in the position to hire, to look at our graduates. Eventually, they can donate larger sums of money."
At the end of each semester, there is a screening of student work. The event is not broadcast across campus, and yet last semester's screening filled the TV studio, with over 100 in attendance. "That's an astounding number for us," says Ellenwood.
Starting in fall 2007, film students were included in the Fine Arts Scholarship program, which awards $3,000 per year to selected students who have demonstrated excellence in film. Four students were awarded the scholarship in its inaugural year.
This fall Augsburg is launching a partnership with the highly-regarded film studies program at Minneapolis Community and Technical College. MCTC students will be able to complete a four-year degree in film studies at Augsburg, and Augsburg film students will be able to take courses in the film program there.
A rich harvest
Students who recently graduated have enjoyed rubbing shoulders with professionals in the business, just as those in the early days.
Ben Katz '08, Steven Jacobson '08, Trevor Tweeten '06, and Joe Lueben '07 all worked on a film accepted into the Minneapolis-St. Paul International Film Festival last year. Matt Goldman, who has written for Disney and for Seinfeld, directed the film. "Working with Matt opened up a lot of doors," says Lueben. "It was the first time we've taken somebody else's story, and not our own."
The four also created a feature film called "Bits" with a group of Augsburg alumni, which has been featured on www.mnfilmtv.org and was screened at the Uptown Theater in August.
He has freelanced for such organizations as 3M and the University of Minnesota, and worked on a Kid Dakota music video, on a short film with the lead singer of Motion City Soundtrack, and made a 50-minute compilation of clips of Minnesota-made films.
For his senior project, Katz worked with Ellenwood to research the documentation needed for an independent film. With a 90-page script, he created a production book with scene breakdown, shooting schedule, budget, and business plan, which he then presented to the writer in LA.
"I love that the program's grown with me," says Katz. "When I started out [at Augsburg], everyone was excited about the film program, but the department was not very structured. It's gotten better. Once Wes was hired full time, it changed. It's a real program now."
"It's this current wave of graduates who will probably be the best ones," Wes says of the dozen or so who graduated this last spring. "They are positioning themselves to be out in the industry, in the field; not pumping gas."
Bethany Bierman formerly worked in the Office of Marketing and Communication and lives in Minneapolis.
Who's who in film alums
Michael Bodnarchek '85

Owner of Battle Creek Productions. Past president and co-founder (along with Quentin Tarantino and Lawrence Bender) of A Band Apart, which produced videos for such megastars as U2, Metallica, and Bon Jovi (and in 1999 alone was up for 21 of the MTV Awards).

Adam Schindler '00

Past assistant to producer awrence Bender. Assistant to the executive producer of Desperate Housewives; current assistant for director Marty Calner. Semi-finalist in the Academy of Motion Picture's Nicholl Screenwriting Contest; horror script, "Sundown."

Garret Williams '89

Attended graduate school at the American Film Institute; directed Spark, which received a Best Director Award; selected as one of nine filmmakers for Fast Track in 2005 on his work on Lost Dog. IFP Blockbuster/McKnight Film Fund winner.

JoLynn Garnes '02

Editor of The Fearless Freaks, featuring the Flaming Lips documentary, winner of the Mojo Vision Award. Has edited videos for artists such as Liz Phair, Hilary Duff, and Prince, as well as Target commercials, the feature documentary Summercamp!, and video visuals for Beyoncé's 2007 world tour.

Bryce Fridrik Olson '97

Director of feature films The Caretaker (2008) with Jennifer Tilly and Judd Nelson, and Be My Baby . Co-produced instructional DVD "OT for Children with Autism, Special Needs & Typical."

Jenny Hanson '05

Completing graduate work in Austria in a trans-arts program; owns Sprouted Wolf Productions; teaches film at North Hennepin Community College and Normandale Community College.

Hanne Anderson '99

Emmy nominee for camera editing for her work on Guiding Light; editor for digital group at Spike TV, and, as a sideline business, co-owns Riveting Productions, a DVD authoring company that works primarily with Comedy Central Records.

Trevor Tweeten '06

The first official film major. Won first place at the Oak Street Cinema's 24- hour film festival; recently moved to New York City to freelance; currently shooting for TLC's What Not to Wear.